Content writing is a staple of advertising. Without content, there could be much less communication with your audience, this means fewer leads and much less conversion. However, there are several forms of creative and attractive content you can write to place yourself high in the Google ratings.
How many types of content are there? The answer to this is a lot. But don't worry, we can break a few down for you in understanding the types of content writing. From Facebook posts to ebooks and newsletters to websites, content marketing can take many shapes—and so must your content writing! Now let's get to understand the types of content writing.
Different Types of Content Writing
Content writing is about more than specializing in packing blogs full of search engine optimization keywords or bland email advertising. Writing must be attractive and informative while being unique to your brand's voice. So what do types of content writing consist of? While content writing can span many unique genres, there are some broad categories and styles of content writing that you'll most probably encounter. When embarking on a content writing adventure you could consider: blogging, copywriting, technical writing, social media posts, and emails.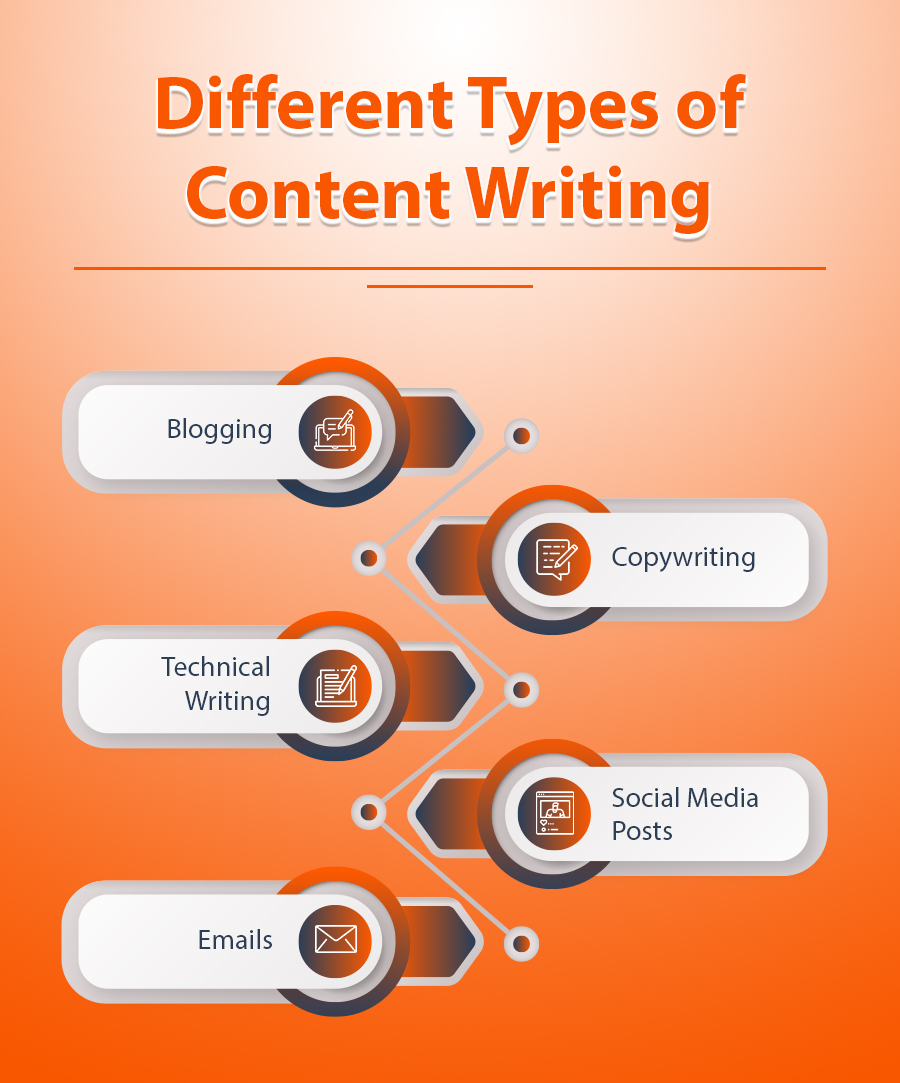 Blogging
Creating weblog posts is one of the types of content writing. Blog posts help to reinforce your website's search engine optimization rankings since search engines reward websites that are continuously putting out new content. You'll need to identify unique high-ranking keywords to include in your posts so that after people search for them, your weblog pops up first. That requires some research to recognize the language your ideal customers use whilst trying to find answers to their questions.
But it's essential not to keyword stuff. Depending on the period of your content material, you'll need about one keyword per 100-150 words (so a 750-word weblog needs to have between 5-8 keywords). We will let you decide on the highest-ranking keywords based on what clients are looking for online. This takes out painstaking research and offers you high-value key phrases quickly.
Blog writing services can cover an extensive variety of subjects and have plenty of writing styles, depending on the subject and brand goals. Typically your weblog posts can be more conversational and approachable—the key is to teaching, informing, and entertaining!
Copywriting is the centre of constructing a website and advertisement copy. Without copywriting, your informative content can be bland and not persuasive. The purpose of these types of content writing – copywriting is to promote your product to existing and potential customers. These types of content writing consist of things like writing your:
Website copy
Sales collateral
Advertisements
Print ads
Infographics
These are the nuts-and-bolts types of content writing that people don't regularly consider or spend plenty of time on. However, this is an essential piece of the content marketing puzzle! You need to craft these messages strategically whilst understanding that these kinds of written pieces are the foundation of your brand…and often the first aspect that your prospective clients will read.
Technical Writing/Long Form
Technical writing can appear intimidating, however, as someone who knows your own business and products, these can from time to time be the easiest types of content writing to produce. From developing white papers to ebooks to how-tos, this is your chance to give an explanation for how your service or product works, how your customer can apply it, and teach your audience the specifics. Keep in mind that you nonetheless need this to be approachable—try not to apply too much jargon or explain it in case you want to use it.
Did you realize that over 58.4% of the world's populace is on social media? Not just that, but the everyday common usage is nearly and a 1/2 of hours. There is a massive audience out there, and companies are anticipated to have a social media presence on important platforms (Facebook, Instagram, LinkedIn, Twitter). Writing for social media means developing applicable, in-touch, and platform-specific posts.
To write well types of content writing for social media, you have to understand the quirks of each online space—for example, a white paper about your merchandise possibly won't go over well on Facebook, however, can be a large hit on LinkedIn. It's additionally important to understand the limitations of social media platforms—like Twitter only permitting 280 characters per tweet, with the possibility to hashtag an essential word or idea.
Most frequently, social media posts are fun and engaging, whilst hooking the reader by prompting them to click on an ad or read a weblog.
While email campaigns could fall under the segment of copywriting, it is essential to think about your emails a little bit differently from types of content writing. Copywriting pieces are geared towards an audience that is unusual with your brand and the solutions you're offering. With emails, you usually target your loyal fans and your clients who keep coming back for more. After all, how else could you've got their email address?
Your approach to email needs to be different from other types of content writing. It's essential to offer content in your email base that is full of added value to maintain your clients engaged and inquisitive about what you're offering.
What Skills Does a Content Writer Need?
First and foremost, a content creator needs knowledge, diligence, adaptability, and a mastery of words. You need to additionally realize your company, services, and products inside and out to write down good content. Understanding what you're promoting is an essential part of being a plausible and convincing creator. Everything else may be improved upon, too.
It doesn't matter where you begin, you need to continually be asking "how can I enhance my content writing skills?" The finest manner to get better is to practice! A/B testing also can help you enhance. You can try out different types of content writing and variations of the same email, send it to different lists and notice which gets more clicks and conversions. Pay attention to what works, and modify your content writing going forward. The more you practice, the better you'll get. Another key talent is the capacity to work well with others.
You won't continually be an expert on everything you write about, and in those instances, you'll need so one can coordinate with subject matter experts to accumulate insights you could use to fuel your content. Not only is their input valuable, but their comments are also critical; discover ways to accept criticism for your writing and focus on generating the best end product you likely can—even if it doesn't match your preliminary vision.
How Do You Write Content Writing?
There are key factors in the types of content writing you need to make sure your blogs, copywriting, and other contents engage your audience. But you would possibly still be asking, "What are the components of content writing you need to succeed?" There are numerous key steps to keep in mind whilst writing content for your commercial enterprise:
1. Know your audience.
Determine who you need to target with your content. From there, figure out what those people need, want, and look for, in addition to how they talk. Write content that appeals to those things. Do not move right into a spiel about how great your service or product is. Show your audience how it'll assist them.
2. Know your types of content writing.
Before you begin writing, you need to additionally ensure that you understand the type of content you're writing considering all of the forms look so different. Figure out what makes each kind successful and attractive for your audience, and try and use those same characteristics for your own content.
3. Do your research.
You need to set up your business as an authority in whatever subject you decide to write down about. Do so by providing specific examples of ways your service or product has helped clients in addition to locating applicable information from credible sources.
4. Stick to the point.
You need to keep your reader engaged. To do so, you need to stay on the subject matter. Ramble an excessive amount, and also you risk your readers clicking off your content before they get to the call to action.
5. Stay organized.
Similar to the preceding step, the organization is likewise essential to keep the reader engaged. Make sure as you write you begin with broad information for your subject matter and get more specific as you go on.
6. Call to action.
By asking your audience to do something, like go to a website, you'll have a better engagement. This way an improved click-through rate, as well as better interest for your service or product. If you've written your content nicely, your audience will see you because the go-to on certain subjects and trust you enough to try out your offerings.
7. Keep track of progress.
Once you share your content material, make sure to keep track of how successful it is. This way how many people click on it, how many people stick on it for a substantial quantity of time, and how many leads come from that post. If something doesn't work, pay attention to it and change it in your next piece of content.
Final Thoughts
If you're trying to hire a content writing services agency, it's right to conduct interviews and research candidates to find the right match for your company. Have potential candidates provide a pattern in their writing to provide a sense of their ability and range. When interviewing, ask the author about their interests—content writing works great whilst the author is engaged with their subject matter.
Read More:
5 Key Elements of Good Writing One Should Know
What is Content Writing? Tips to Write Compelling Content
How to Improve Your Content Writing Skills
How To Start a Content Writing Business – Step by Step Procedure
Best Content Writing Services: Get To Know The Top 15 Players
Top 10 Companies To Outsource Content Writing Services In 2021