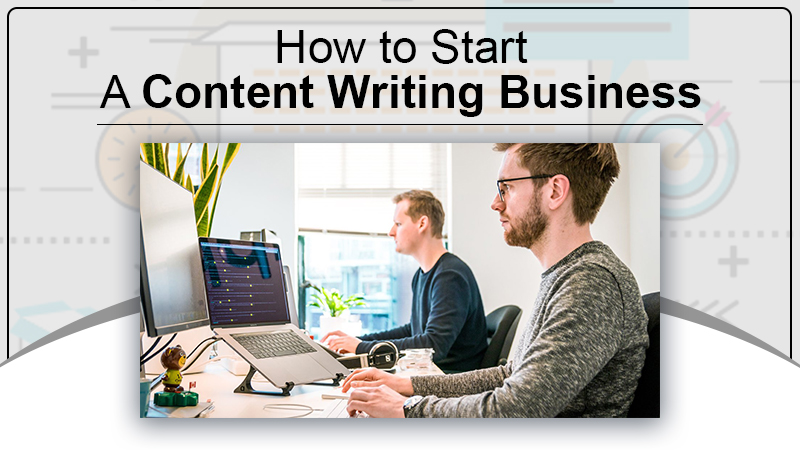 How To Start a Content Writing Business – Step by Step Procedure
Writing professionally about content for a living is hard enough, but starting a company that provides content writing services has its own set of difficulties. If you are really interested in starting a content writing firm, you should have the information regarding "how to start a content writing company" at your fingertips. As well as a knowledge of writing abilities, there are other factors. As a writer, editor, manager, and entrepreneur, you will need to be all of these things. Through this article, we would provide detailed guidelines on how to start a writing business online.
Why it makes sense to start a "content writing business"?
While content creation is still a popular approach, the latest trend is the rise of content marketing. But with good reason. Content writers across the world are always in high demand. It's due to many factors.
Writers and speakers across the globe are capable of writing and speaking English. They're also more than ready to accept less pay than a native speaker. This leads to further savings for foreign customers.
Additionally, many new and established companies are turning to the Internet. What they need is a competent team of writers. These writers can help a company to turn into a brand and generate leads organically by creating a content strategy.
Many professionals have moved to a more permanent distant location to conduct their business. The increasing popularity of freelance employment has led to this. Compared to years before, people are giving greater weight to their health and time with family.
People in the professional sphere, when feasible, are open to a full-time job from home. They are even open to an increase in their freelance work possibilities.
We anticipate that many professionals will start working from home after the pandemic. This is due to the fact that the post-pandemic period would help to churn out quick and high-quality content.
What do you need to remember before starting an "online content writing" business?
A content writer who is planning to establish a Content Writing Company will need to have job experience. They must have a thorough understanding of content marketing. Because they're a content writing company, a writer has to manage several different tasks at once and wear a lot of hats.
How can you begin a content writing company?
To establish a content writing company, you need to understand "how to start a writing" and "how to start a writing business."  We will cover topics ranging from essential abilities to the best methods to establish a "content writing agency". Okay, let's get started.
1. Bring out your specific area of expertise
Consider how you fit into the picture of starting a writing business.  This will show you what you must do to get your business going. Identify the following, if possible:
Which startups do you specialize in?: 
SMBs? What about Fortune 2000 corporations? Is there a list of SEO agencies? You have many choices available.
Your professional skill may already be found in particular sectors, such as executive ghostwriting or producing long-form material for tech companies. You may be still getting your bearings, but you have a knack for SEO and content marketing.
Discover your practices and promote yourself as a True Expert. After that, find out whether a market need exists – around 42% of companies fail because they don't have one. After that, you must figure out whether you can make your job into a differentiating advantage.
USP (Unique Selling Point) and CDF (Common Differentiating Factor): 
USP and CDF are specializations as far as your area of expertise is concerned. Hence you should try to distinguish yourself. Fo the same, you can offer something that your rivals cannot. When establishing a content writing company, your CDF is your "X factor" since it gives you an edge over the competition.
2. Create a business strategy
The path to success is paved with objectives, and a business plan is just a list of them. Setting objectives focuses your energy and helps you direct it in a more focused way. It is possible to achieve your objectives in a shorter amount of time.
One of your primary objectives should be to reach a financial goal.  You're looking to establish a "content writing agency". This is evident in the fact that you're trying to earn more money than you are now making. Use your current salary as a reference point, then double it.
Your personal income on the first day as a freelancer should be $600 if you earn $300 per day. If you want to hit your targets, you'll need to establish prices that will attract freelancers. Keep your customers happy with the content.
Your company strategy may steer you in the right direction. If your first approach fails to meet your objectives, you know you need to come up with a new plan. Success is sometimes built into your success formula, so make it part of it. You may follow a structured process rather than simply going with your gut.
3. Perform a deep-rooted research
A successful freelancer will be able to gauge the market price of writing based on their own writing rates. You should be aware, though, that a freelance writer doesn't have the same overhead as a well-established firm, thus their prices may vary considerably. On the other hand, if you're going to price yourself out of the market, you may end up losing money.
To determine your profit margin, start by finding out what fees others are charging. Utilize this knowledge to guide you as you achieve a healthy mix of competitiveness and profitability. It is essential to note that your prices aren't the only thing that makes you distinctive compared to your rivals.
You may set your business apart by offering the same prices as your competitors but provide great service and extras to attract customers. There are a variety of methods you may use to advertise your business that is unrelated to pricing.
It's important to understand your target audience and their needs, as well as what motivates them to press the purchase button. Some individuals are unconcerned with the quality of their purchases, as long as they get the lowest price possible. Other people's opinions and recommendations guide some, while others actively go against what the reviews suggest.
4. Client relations
The writing industry is very competitive. To establish a lasting bond with customers, provide excellent service. Give your customers the one-of-a-kind experience they won't get anywhere else. Promise less and exceed expectations.
Always do what you are supposed to do. Clarify what is expected of you from the outset. It sounds simple, but it's not. For each project, create a short proposal that details the client's expectations of your work, as conveyed via a face-to-face meeting, phone call, or Skype chat.
For best results, you should make a long questionnaire for yourself to lead your talk with yourself, which may then serve as the basis for your scope paper. It's important to get your client's signature before beginning the project, as a means of conveying that you both agree on the scope of the work. Keep it on file and send a copy to them through email.
5. Assess your company's capabilities
Since you are a writer, you are already familiar with many things. Even while establishing a content writing company and growing one both need talents you may not have acquired throughout your freelance writing career, you may get these skills via education and practice. If you haven't done so previously, here are some items to purchase:
If you are unfamiliar with marketing, you will need to master it soon. This includes digital marketing, content planning, and other marketing-related services.
At the end of the day, you will want to exclude yourself from your company's process, so you won't be exchanging time for money anymore. In order to design project procedures, you'll need to be familiar with project management.
All the figures for the company finances. To be good at handling money, you need to know how to. Paying your subcontractors and filing taxes are two areas where you may benefit from training in basic accounting.
As your group continues to expand and your organization takes on increasingly complex initiatives, you will find yourself managing teams and individuals. You must be confident in your ability to manage them.
oral communication It is likely that you have had previous dealings with clients. After that, you will need to get familiar with business partners, contractors, and other decision-makers.
6. Design an impactful website 
Today, it is impossible for a company to be regarded as respectable without a website. Ensure that your website has everything a possible customer may want to know.
Before you choose a name for your agency or company, be sure it's suitable. You should choose a design that captures the essence of your company.
In addition to being the one-stop shop for your business, your website will also be the central focus of all your marketing efforts. It is not necessary for the website to be interactive. You could even run a blog website on your own if you wanted to.
If you are not very skilled in web design, it is a good idea to employ a designer or developer. Your company's brand image is dependent on the website's portrayal. A web developer's employment will almost always provide greater outcomes than if you build your own website. It has a professional air as well.
To also have a business email, you may invest in a new company. Branding your email address with your company name will provide a level of trust and confidence. Often, it is purchased in conjunction with a website hosting or domain service.
7. Come up with your financial plan
In order to make sure your business is profitable, you must manage your finances. Because you start a business as a content writer, you must maximize your resources. Researching and creating a reasonable budget are both important parts of your business's financial planning.
Your greatest expenditure as an internet company is your website, fortunately. It is a place where you may find both customers and talented employees. Think of the finest potential website you can manage on your budget and start planning to make it happen. Additionally, you should determine the extent to which you can afford to compensate your authors and how much you are able to invest in marketing activities.
In addition to the operational needs, you must be aware of the legal requirements of opening your company. There are licenses and taxes involved. You'll know how much you should charge customers when you have a firm grasp on your expenses.
8. Make sure you have a pool of talented writers to draw from
You undoubtedly want to start a content agency to help you make more money. To do this, you will need to take on more jobs and deliver them on time while maintaining the quality of your work.
The only option is to locate individuals with writing talent to assist with your deliverables.
The value of a good writer is clear, but finding a gifted writer is difficult. This group of authors consists of:
Easily matches the brand's tone.
Work with a tight plan that follows a precise outline.
Always fulfill deadlines on time.
Write material that engages readers without requiring much modification.
Thus, you must establish a framework that assists you in finding writing talent to employ at your content writing agency. An excellent place to begin is on writing-related employment sites.
Conclusion
Now you know all about how to start a content writing business. The techniques mentioned in this article are the essential prerequisites for anyone to launch a successful content writing business. Note that you need to keep working and improvising on the techniques to establish an excellent position in your domain. Before deciding to open a content writing company, you should thoroughly research your audience and create a robust strategy. It requires careful planning, which you need to execute meticulously. Design a professional website that reflects your unique selling point. Lastly, know about your finances and how much you will charge your customers.