If you want to rank your website among the top pages of the Google search engine then you must invest in quality content. Content has the power to take your business to unimaginable heights. Recently the world has evolved digitally, which has given a push to the demand for content writers and bloggers who understand the true essence of writing. Are you someone who has been contemplating hiring content writing services professionals? If yes, then we are here to help you out!
We all are a part of the digital era, where content is everything! This has resulted in the emergence of various organizations that are self-proclaimed "top-notch content writing companies" in the market. But, if you decide to invest your money in content creation, it should be worth every penny that you spend.
So, after thorough market research, we have finally picked out the names of the top 10 companies that offer satisfactory content writing services to the clients. We will also share all the advantages and the downsides of these web portals offering content writing services. We hope, this will help you in choosing a company that best suits your needs.
Related Post: Types of content writing
Top 10 Content Writing Companies to Upscale Your Business in 2021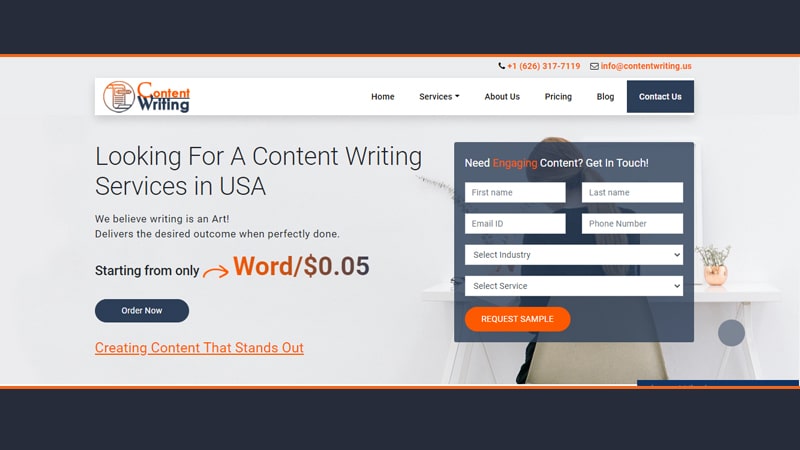 If you wish to get ahead of all your competitors, then you must introduce your website with SEO-optimized content. Content writing is an online portal with a proficient team of writers experienced in writing for different industry niches. You can outsource content writing projects to the company for unique, and compelling copies that your website requires. They deliver premium quality services.
The writers at Content writing agency conduct comprehensive research to enrich your content with authentic data. Their team keeps up with the latest industry trends and updates. They incorporate their expertise in delivering impressive results. The troupe of talented writers knows how to create tailor-made content specifically for your business needs.
You can hire them for multiple services, including:
What Customers Have to Say about Content Writing?
Content Writing is a reliable online content writing service portal by clients. The reviews are quite satisfactory, and the agency surely does know how to make its clientele happy. Their team believes in timely project delivery, and the customer service is also commendable.
Their online content writing services start at $0.05 per word. The pricing goes up as per the project and requirements.
2: Writing Studio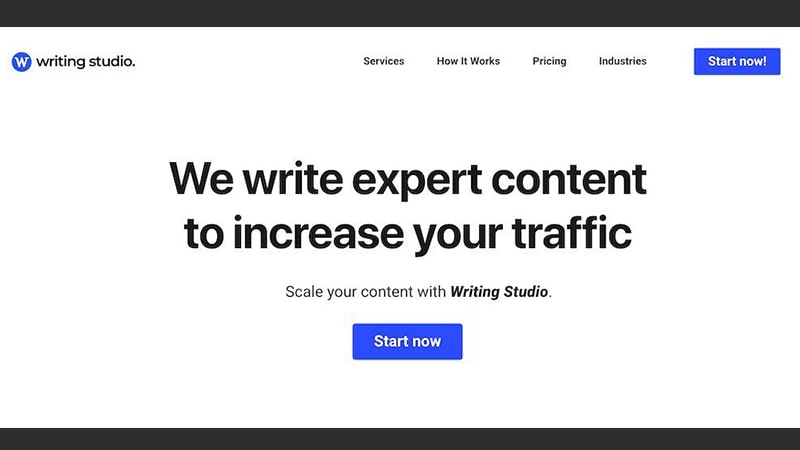 Writing Studio serves as a one-stop solution for all your professional content writing needs. They have a team of expert writers who efficiently deliver well-structured, and optimized copies. The writers at Writing Studio have years of industry experience, and they are capable of providing result-oriented, well-written content.
They are a well-established content writing company that caters to multi-level businesses. Their huge client base includes agencies, publishers, e-commerce owners, and enterprises. The writers at Writing Studio can write about any topic, ranging from technical write-ups to e-books.
All you need to do is, get in touch with their team to share your content requirements. Then, move ahead and confirm all the details. They will start working on your project right away, and once done, you can publish the content on your website.
Some of the online content writing services offered by Writing Studio are:
SEO-driven content
Blog posts
Articles
Press releases
White papers
Product descriptions
Web content
Newsletters
E-books, etc.
What Customers Have To Say About Writing Studio?
For you, we looked through the internet to find out what clients think about Writing Studio. To conclude, they have been working hard to thrive in the industry, and the customers are happy with their content writing services. Their deliveries are smooth, and the results are satisfactory.
Pricing
Now comes the most important part, which is their price. For a 5000 word project Writing Studio charges around $0.20 per word. Whereas, an order consisting of more than 10,000 words could you nearly $0.125 per word. If you require content for white papers then the charges could be a bit higher.
3: Upwork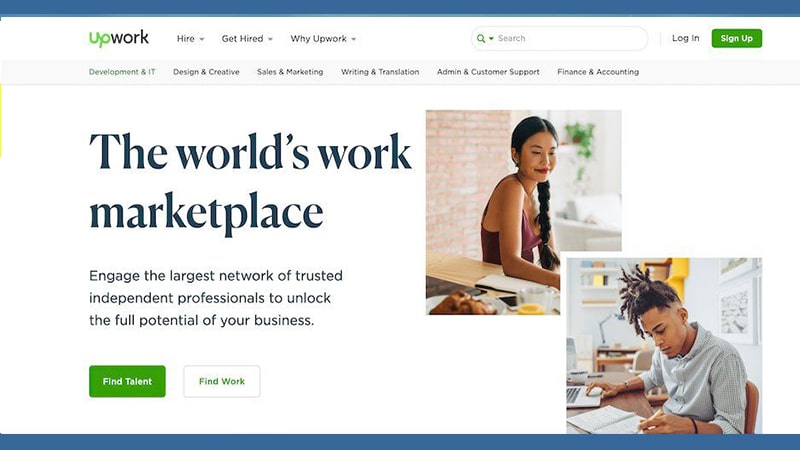 Upwork is one of the most popular platforms that serve as a pathway between the clients and freelancers. Here you can find freelancers to outsource content writing services as per your needs. It could be best defined as a marketplace for work that introduces you to endless opportunities.
At Upwork, get ready to dive into a pool of talent, and find the candidate whose expertise matches your content writing requirements. Whether you have a blog to write, or you need someone to produce ghostwriting content, Upwork is the place for you!
Upwork helps you meet experienced content writers for:
Web content writing
Article writing
Blog writing
Press release writing
Product descriptions
Academic paper writing
Technical writing
E-book writing and the list goes on!
What Customers Have To Say About Upwork?
Upwork is considered to be a trusted platform by freelancers all over the globe. The online work portal has got fantastic reviews from both clients, as well as freelancers. It is a safe marketplace where you can get your work done from the experts.
Pricing
When it comes to pricing, there is no definite strategy or fixed rates. There are thousands of writers at Upwork who offer to work at different price rates. You can describe your requirements, hand over your project, and decide upon charges that suit your budget. Once your project is delivered to you, evaluate it and release the payment.
4: Verblio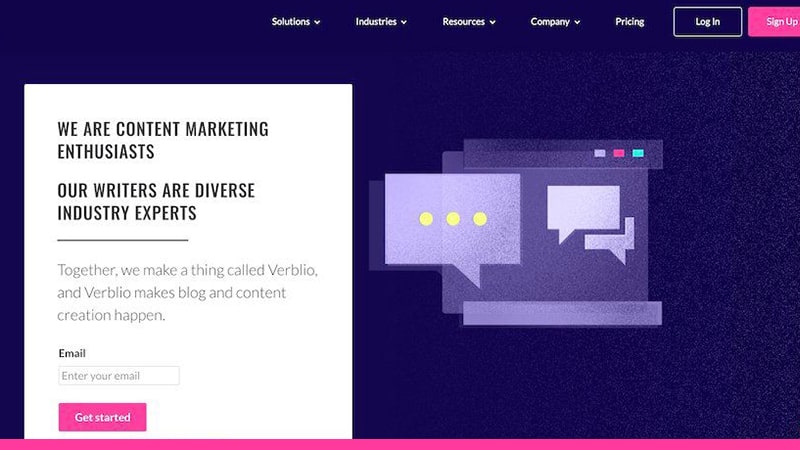 Verblio could be the best content writing company for you as it has a talented team of content writing experts for a diaspora of niches. It is a top-performing content writing service provider in the US. By outsourcing to Verblio you can expect SEO-driven exciting content that can take your business to new heights of success.
The writers know how to write stuff that is necessary to hold your website visitor's attention on the page and pull new traffic. You are sure to get the ROI that you seek! They offer valuable content for agencies, publishers, small businesses, and marketers.
Verblio has prolific writers for healthcare, the automotive industry, health & beauty, marketing, software, and a lot more. You can hire them for:
Article writing
Blog post writing
E-book writing
Newsletters
Press releases
Podcast summaries
Website content
Product descriptions
The options are endless!
What Customers Have To Say About Verblio?
People who have utilized content writing services by Verblio have a lot of good things to say about the company. The passionate writers at Verblio have received appreciation for their high-quality content deliveries, and effective strategies.
Pricing
Their prices for content writing services range anywhere from $32 to $359 per content. The charges are decided as per the word limit of your article.
5: iWriter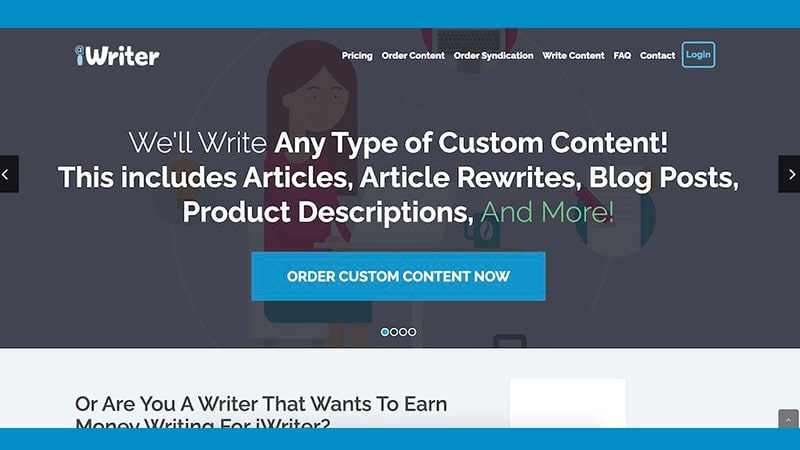 iWriter is one of the top 10 content writing companies in the US. It has an army of skilled writers who specialize in drafting original, unique, and top-performing content copies. They have been serving businesses with content that drives sales since 2011.
You can go to their website and choose from several proficient writers from all around the world. The account registration on their website is free of cost. You can send them a request explaining the type of content that you need. Once the writer is done with your project, the copy is sent to you. After reviewing, you can evaluate it and reject or accept the wok. If the content is as per your desire, it is made available for you to download. Another great reason to go for iWriter is their quick turnaround time.
iWriter can help you with:
Article writing
E-book writing
Kindle books writing
Article re-writing
Press release writing, etc.
What Customers Have To Say About iWriter?
The clients who have taken services from iWriter say that it is the best content writing company. The customer service experience offered by iWriter is at par. Their writers efficiently deliver supreme quality content, and they never fail to impress. You can outsource your work to iWriter even if you are running low on budget, as they offer cost-effective services.
Pricing
iWriter offers content writing services at affordable prices. An article consisting of 150 words would cost you as low as $1.25.
6: Content Flip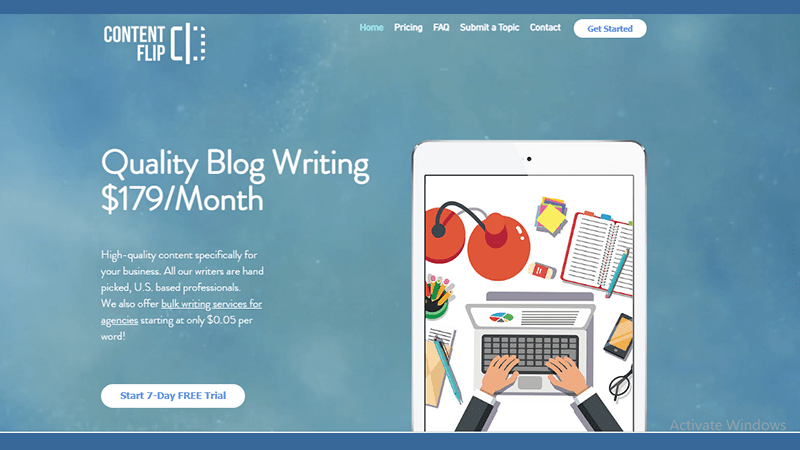 This company promises to deliver tailor-made solutions for your business and stands true to its claim. Their team includes highly skilled writing professionals from the US who understand the true essence of good content. As per their claim, their content has also been published in some of the leading global magazines, including Forbes, and The New York Times.
Their online content writing services come with a 7-day trial period. This provides you an idea about their way of working and lets you assess their capabilities. Content flip offers budget-friendly content writing options. Their writers are experienced in writing copies for a variety of niches, and topics. Content flip has 10+ years of experience in delivering top-quality content writing services.
You can even rely on them for providing bulk content. They have a special package wherein you get 10+ well-researched, quality articles every month, and they charge you only 5 cents per word for that.
What Customers Have To Say About Content Flip?
Content Flip has been reviewed by the clients as a reliable portal that delivers satisfactory results. The charges for blog writing services are low. You can track your blogs until the final delivery through a client dashboard which customers find quite useful. Also, the content is plagiarism-free, which is the need of the hour.
Pricing
You can sign up for their content writing services at $179 per month. All their articles and blogs consist of up to 1000 word count. You can even request revisions as there are no such restrictions.
7: Content Runner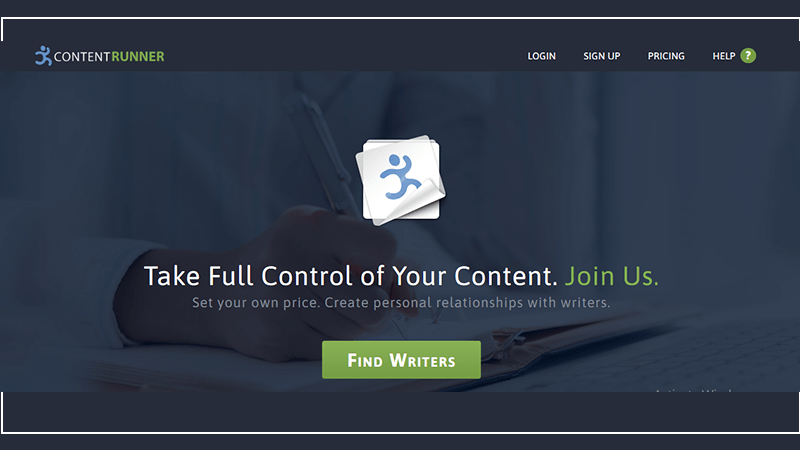 Content Runner serves as a marketplace where you can outsource content writing projects. This online portal has 2000+ US content writers in their team. All of their content writers hold wide industry knowledge, and experience in performing in-depth research. This means the final product delivered is sure to be high-end in terms of quality.
The founding members of Content Runner know how to provide scalable results for your business. The writers at this content writing company excel at ideation and then converting those ideas into beautifully structured sentences. The customers get a dedicated dashboard to track their project's progress. With the rise in social media popularity, Content Runner even has a team of writers that creates catchy posts for your Facebook handle.
Content Runner offers solutions for both large businesses and small-scale enterprises. As a customer, you have complete freedom to select a writer to do the job. The content audits are done via Copyscape.
You can choose writers from various niches. They have different teams of content writers that focus on delivering different types of content, such as:
Article writing
Banner Ads writing
Brochure writing
Ideas writing
Technical writing
TV script writing
Tweets writing
Landing page writing
E-book writing
Website copywriting
White paper writing
Translation writing
There are many other forms of content that you can get written from Content Runner. Just share your requirements, and their writers will start working on the ideas right away
What Customers Have To Say About Content Runner?
Content Runner leaves the clients happy with their excellent deliveries. Not only do they allow you to choose from their flexible price range, but the efforts they put into each one of the projects are worth appreciating. This content writing services portal has bagged some amazing reviews. This means, their customers are quite happy with the results.
Pricing
Their pricing strategy is flexible, which allows you to quote a price as per your understanding. You must keep in mind that the charges offered must be decent enough that it compels a writer to take up your order. Content Runner deducts a certain percentage of the writer's earning as fees. It starts with 15% for less than $500.
8: Writer Access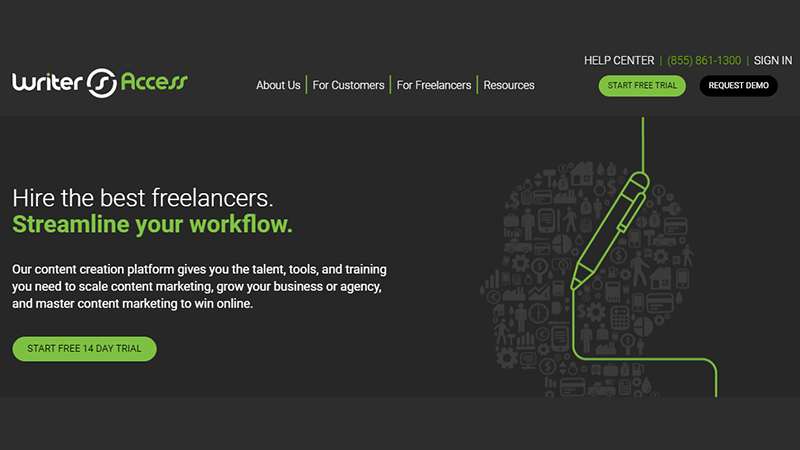 Writer Access has been in the game since its inception in 2010. The company has shown tremendous growth in the last decade, which surely makes it the best content writing company in the US to fulfill your needs.
Writer Access is the marketplace for freelancers. This makes it easier for you to get help for your content writing projects. Whether you are an individual trying to set up a brand, or a well-established business, you can find a suitable writer at Writer Access. The specialized writers are efficient in churning out the best content for you! All of the writers are experiencing in performing comprehensive research to make sure you get the most informative copies.
They offer a 14-day free trial, and an unlimited number of revisions to make sure your content stands out among your competitors. Writer Access has been highly appreciated for its white paper, and bog deliveries. Their dedicated team of content writers utilizes different resources to enrich your content with quality information. Before placing your order with a writer, you can assess their abilities based on their ratings.
What Customers Have To Say About Writer Access?
Writer Access has been providing a positive experience to the clients. As per our research for client reviews, the results are satisfying. Their turnaround time is highly appreciated by the customers. Writer Access is a result-oriented online content writing services company that believes in maintaining transparency in its projects. Their unlimited revisions policy is appreciated by the clients, as it helps in achieving the desired goal.
Pricing
Writer Access has strategically planned the pricing policy. Their basic plan starts at $39 per user per month. Whereas the premium plan would cost you $99 per month, and it can be accessed by unlimited numbers of users. All of their plans come with free plans and plan-specific T&Cs.
9: Scripted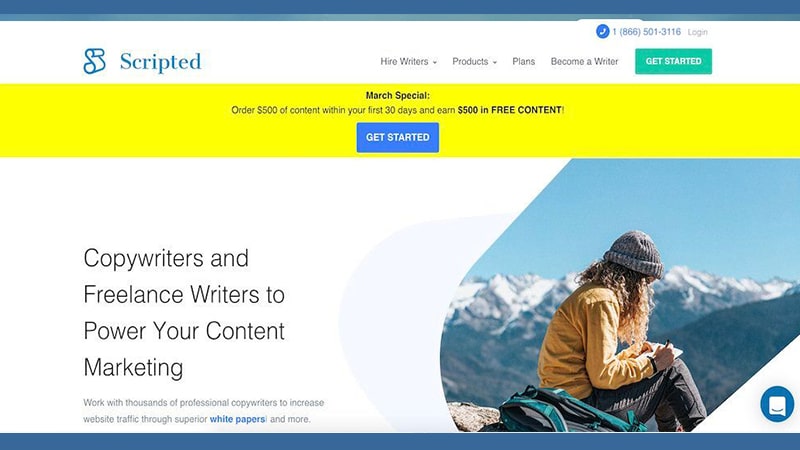 Scripted is another marketplace for writers that was founded in 2006. Ever since then it has evolved into a robust network of freelance writers where you can outsource content writing work. Whether you need exciting, and trendy stuff for your social media handles, or well-researched blogs, you can easily find writers as per your requirements.
The top writers at Scripted have proven experience in delivering plagiarism-free, original content that speaks the language of your business. You can hire a writer for your specific niche, and expect guaranteed results. Scripted caters to multi-level agencies, and businesses with their digital brand building through impactful content.
The writers at Scripted are efficient in delivering multiple content types, which includes:
Web pages
Social media posts
Blog posts
Product descriptions
Video scripts
Newsletters
Transcriptions
Ad copies
E-books
And, the list goes on!
The engaging content helps you grow organically on the internet, and also facilitates the brand awareness experience. In addition to that, valuable content helps in building trust among your customers by creating a positive brand image.
What Customers Have To Say About Scripted?
The customer service experience provided by Scripted is admirable. Clients have left good reviews about the company, and describe their deliveries as SEO-optimized. As per the customers, Scripted acts as an integrated service for all kinds of content requirements.
Pricing
The basic self-serve plan at Scripted starts at $199 per month. You can even go for their self-serve premium, and cruise control plans which are priced at $349 monthly, and $1,299 monthly (annually paid).
10: Express Writers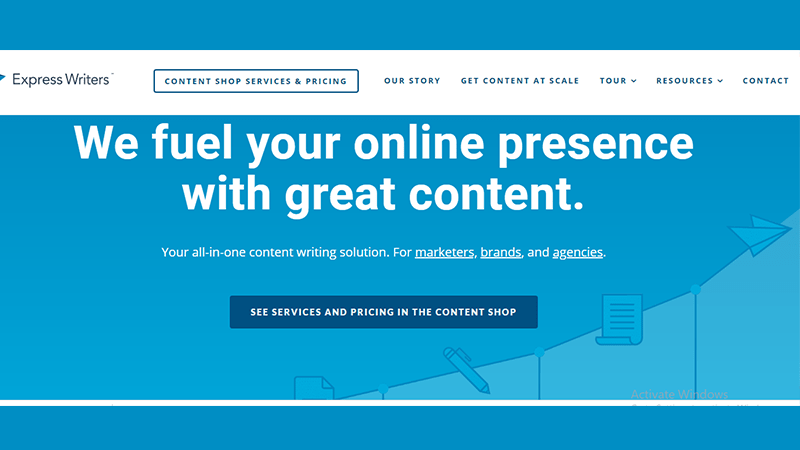 Express Writers is a well-known name in the US market for its remarkable online content writing services. The company was established in 2011 and has been delivering valuable results in the market. In their team, all the writers are certified to write for their preferred niches. This is evident in the quality of work they carry out.
It is an online portal that caters to individuals, as well as agencies, and brands. The writers at Express Writers have a clear understanding of the technicalities of content writing, drafting, editing, and proofreading. They offer quick turnarounds, which help you complete your projects as per the schedule. Express Writers can help you with financial content writing, medical content writing, technical writing, and legal content writing services.
You can head to Express Writers for:
Press release writing
E-books, and guides writing
White paper pages
Ad copywriting
Blog writing
Social media posts
Conversion copywriting
E-mail copywriting
It also offers multiple other services. The versatility of content writing services offered by Expert Writers is what convinced us to enlist it as one of the top 10 content writing companies in 2021.
What Customers Have To Say About Express Writers?
Express Writers has some great client reviews. Their deliveries are quite impressive, as they have well-trained writers in their troupe. SEO-driven content is a total run for the money that you pay. Although, their prices are slightly on the higher side.
Pricing
The starting price for their general blog category is $0.09 per word. The charges go up to $30 per word for authority content. It could be a costly deal for many.
Final Verdict
Your digital presence is nothing without relevant content. Thus, you need to get help from content writing services experts, and explore new business opportunities in the market that awaits you! All these companies have proven themselves as high-end writing service providers. You can get in touch with them to enhance your business experience, and take it a level-up.
Related Post:  Benefits of content writing services