Wonder what the secret recipe is behind creating a blog that secures a high rank for important keywords and attracts numerous backlinks? The answer is very simple. Evergreen content is the backbone of a successful content strategy. It refers to any kind of content you make for your blog, website, or social media that has sustained interest over a long period.
A famous example of such content is 'How to lose weight for a personal trainer. Evergreen content marketing campaigns offer long-lasting expertise which makes people return to them again and again. If you want to leverage this specific type of content in your own content strategy, this article is for you. You'll learn everything from what this content type really means and useful ideas to create such pieces.
Read Also: What is content writing
What Is Evergreen Content?
This content covers those topics that are always relevant to the audience. Simply put, this kind of content never loses its charm and always attracts traffic. Moreover, when you take steps to keep it fresh and updated for your readers, it will only generate more interest over a period. So, you will benefit from sustained traffic and interest for months and even years ahead.
Now that you are aware of the evergreen content definition, you should also know what seasonal content means. As you may have guessed, it is the exact opposite of content that is evergreen in nature. It implies topics that are linked to a specific time or occasion. Some classic examples of seasonal content include world cup matches, social media trends, and festival-related news pieces.
In a nutshell, this kind of content has the following crucial characteristics.
The content is not linked to any particular timeframe. People will find it helpful for them whenever they read it.
The content gives something to learn. It either helps the reader to solve a specific problem or informs them about something relevant to them.
Evergreen content is always original. You can find many types of content on a single topic on the web. If you want to make your evergreen piece stand out and become high-ranking, you must ensure that it is fully original and not copied from a similar one.
The content is also fully optimized for the search engine. It means that you must follow certain on-page optimization guidelines for search engines to actually find it. Otherwise, people will be unable to access and read it.
Evergreen pieces are always comprehensive. You are not bound by a specific word limit while writing evergreen articles. As they are informative in nature, you must go all out while researching and creating a powerful piece.
The topics of evergreen content are searchable. It means that you must write on topics that are being searched by people on the internet. This point is essential because you don't want to spend your time and effort creating a comprehensive article only to find no readership. It might rank high on search engine results pages, but there will be no traffic to your website.
Read Also: What is a content writer
What are Some Interesting Evergreen Content Examples?
There are various kinds of topics that you can place in this category. Some of the most prominent examples of such content are given below.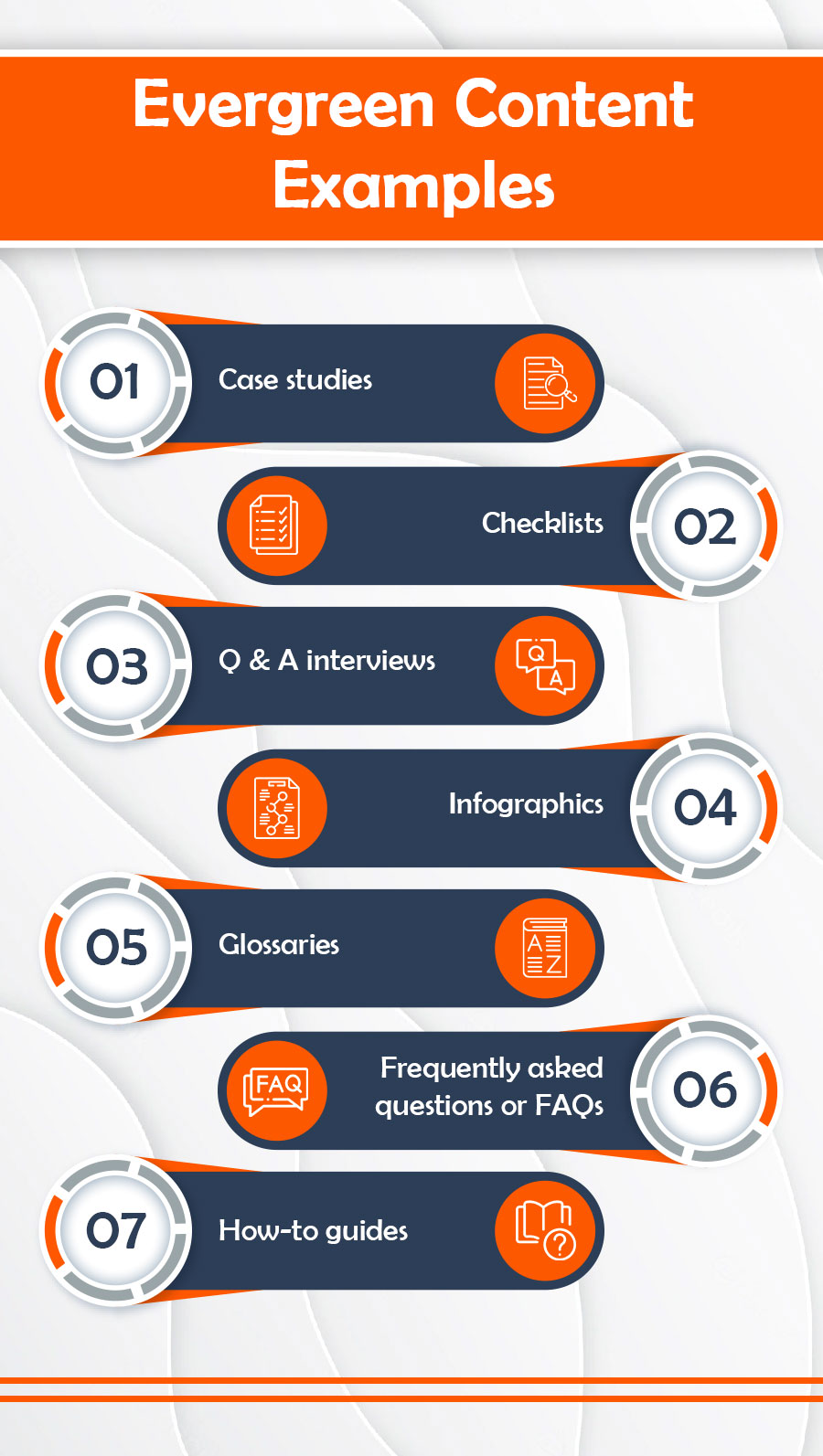 Case studies – Case studies are suitable for creating long-lasting content. With them, you need to choose a topic that's up-to-date and relevant. By picking such a topic, your case study will provide lasting value to the reader in the long run. At the same time, it also helps you get social proof for your business.
Checklists – It's not always necessary to provide something new with your content. Checklists are one of the key evergreen content examples with which you can provide value to your readers by creating a roundup of some ideas.
Q & A interviews – Interviewing an expert in your field is another great way to create content that attracts long-term interest. Industry experts have a deep knowledge of their domain, and many of their methods and suggestions live up for a long time.
Infographics – Infographics are an attention-grabbing type of content that elaborates a process in a simple way. However, you need to ensure that your infographic isn't loaded with statistics as it renders them invaluable for years.
Glossaries – You can demonstrate your expertise on common industry acronyms, and terms by giving their definitions through glossaries. Definitions rarely change over a period of time. It makes them one of the most effective evergreen content examples.
Frequently asked questions or FAQs – Providing useful advice by creating a section on frequently asked questions is another good way to attract traffic over a long period. As everyone knows, the best time to answer a question is to do it before someone asks it. By answering their question beforehand, you showcase how your brand is committed to helping people as much as possible.
How-to guides – Compiling a massive how-to guide will certainly serve you well for years ahead. But don't just make it long. Pack it with easy-to-consume content. You should make an effort to explain each and every process as clearly as you can to your readers. Include quotes, images, and call-to-actions to make it more effective.
Read Also: Benefits of content writing services
How to Create an Evergreen Content Marketing Strategy
Evergreen content certainly provides compounding results over the long run. But to get it right every time, you need to create a robust strategy for this kind of content. Here are the pointers to follow to create one.
Determine the needs of your audience.
Choosing the right keywords is crucial to creating this type of content. But to choose the right ones, you must be deeply familiar with your target audience. You need to narrow your focus and make something that truly speaks to your audience base.
Go through websites such as Reddit and Quora to discover what people are asking. You can also go a step ahead and interview people directly. To find industry-specific keywords, use keyword tools like Ahrefs.
Find out topics that tend to perform well over a period
You cannot depend on your intuition to discover topics that do not lose their relevance. It's crucial to carry out some good research and find such topics. We are basically talking about keyword research. Your content strategy must cover diverse terms with a range of search volumes. It would be best if you search for keywords with incremental monthly searches. When you are researching for keywords, you will find that time-sensitive keywords have a fluctuating monthly search volume.
Additionally, find out about such content written by your competitors and make every effort to present your content better than them. Once you are sure about keywords and topics, start writing. Ensure that your content is of high quality and fully reliable. It shouldn't have any trending topics as these are what make the content obsolete.
Make your evergreen posts gain attention by linking them to a hub page
When you are making an effort to create evergreen content, why let it get buried under the inflow of new posts? You can make these posts stand out to visitors by putting them in a Top Post section of your website or by dedicating a full page of your website to them. Ensure to link the new posts with evergreen content through internal linking. It functions to improve your SEO and search rankings.
When conducting audits, spend some time analyzing the content already on your website. It's possible that you can turn many of them into evergreen pieces. If a post isn't a news article, you can try to make it evergreen by removing the date from it. You can also add some new research and make the content more detailed and relevant. Ensure to enrich it with keywords with good search volumes and then repost the content.
A common challenge that comes with creating this kind of content is finding an original angle. It's because many of the things you are covering might have already been written by someone else. That's why it's crucial that you add your unique touch to the content. If yours is like everyone else, you won't be able to compete with your competitors. Only when your content has something new to offer will it remain relevant for months and years ahead. So create content that is of high quality and unique. Research well, so that you can demonstrate your authority in your field.
Include a CTA in every post
Many posts that you write are time-sensitive. But you don't have to let it hinder you from driving long-term traffic. What you can do is to place a call-to-action on every one of your posts. This CTA should direct the reader to an evergreen content post on the same topic. This technique will give the evergreen piece more traction while allowing the reader to stay on your site for longer.
Pay attention to the language you use
While marketing this type of content, you must not refer to any kind of pop culture in your post. For instance, you might think that including breaking news content in your piece will make it much more noticeable. While it does increase traffic considerably in the short term, it doesn't bring traction in the long run. You must also be careful to steer clear of certain words and phrases. The following phrases only make the content outdated. So try avoiding them in the titles of your content.
'At the beginning of this year.'
'Last month.'
'A week ago.'
'201X.'
As a content marketer, you might be familiar with tracking your website ranking. If you've noticed that your rankings are dipping, it's a sure sign of not posting a lot of evergreen content. You may be choosing topics that are relevant but not writing content that is capable of holding people's interest for the long term. You can use any website rank tracking tool like Ahrefs to track your ranking for the keyword you are targeting.
A great advantage of using such a tool is that you will be reminded whenever the evergreen status of your content comes to an end.
Read Also: Elements of good writing
What are the Benefits of Making Evergreen Content?
By now, you must have a good idea of what exactly evergreen content is and how you can create and market it effectively. Here are some of the highly convincing reasons for you to put your time and resources into creating such pieces for your business.
Attain a better search engine ranking
Good quality content of this sort is defined by its timelessness. When you optimize it with the right keywords for which you are trying to rank, your content will undoubtedly perform very well in the search engine. You can expect it to rank among the top ten search results for a considerable amount of time. This will make a positive impact on your website's SEO.
Benefit from greater traffic
This benefit follows from the one above. Content that ranks well on the search engine inevitably benefits from higher traffic. Your website is bound to become more visible when your evergreen content pieces get a higher ranking. It, in turn, translated to a continuous and steady amount of high-quality traffic to your website and blog, not only for a few days but for an extended period. The good thing is that you will not need to do much to generate this traffic.
Continual lead generation
Continual lead generation occurs because of the continuous traffic that this type of content generates. Content optimized for lead generation helps you get qualified leads over time. You will be surprised to notice how this content, when optimized with the right keywords, will keep working for you long after it gets published.
Final Thoughts
If you want your website or blog to continuously generate traffic and boost your SEO efforts, creating evergreen content is the key. Use the tips in this article to compile valuable content relevant to your readers. You can also reach out to expert content writing services to get a great piece that will fetch you long-term traffic and boost your ranking.