Good content rules the internet. But, search engine optimization-driven content has the potential to take any business to new heights! After all, SEO is considered the backbone of a successful digital marketing strategy.
These are the most asking questions-
Q1. What is SEO content?
Q2. What is a SEO content writer?
Q3. What are keywords?
In this guide, we will be answering all these questions while also throwing light on the crucial aspects related to SEO content writing. So, keep reading and stick with us till the end!
What Is SEO?
Starting with the basics, let us discuss SEO first.
SEO, or search engine optimization, is the process of organically improving a website's visibility, position, and appearance on the search engines. People directly go to search engines, such as Google and Bing, while looking for a product or service online. Hence, SEO boosts the chances of a business to be found by potential customers as they make a search.
The Major Types Of SEO
SEO is divided into three major types, which are:
On-page SEO
Off-page SEO
Technical SEO
Let us discuss them in detail, one by one.
On-Page SEO
The SEO efforts made within a website to enhance its search engine rankings, fall under the category of on-page SEO. This includes using optimized titles, HTML tags (meta, header, and title), images, etc. Basically, on-page entails all the factors within a website that's under our control.
Off-Page SEO
Off-page SEO focuses on all the SEO strategies that occur outside a website. The off-page SEO efforts are meant to help a site rank higher on the SERPs and emerge as "quality" content.
It helps in improving domain authority via content creation and backlinks from other sites. Off-page SEO tactics include citation building, brand building, content marketing, social media, local SEO, etc.
Technical SEO
Technical SEO is the process of boosting the technical aspects of a website for the crawling and indexing phase. It helps sites improve the page rankings in the search engines. Technical SEO includes building a faster website, that's easy to crawl while being crisp and clear for the search engines.
Read more about – SEO Writing Tips & Techniques
What Is SEO Writing?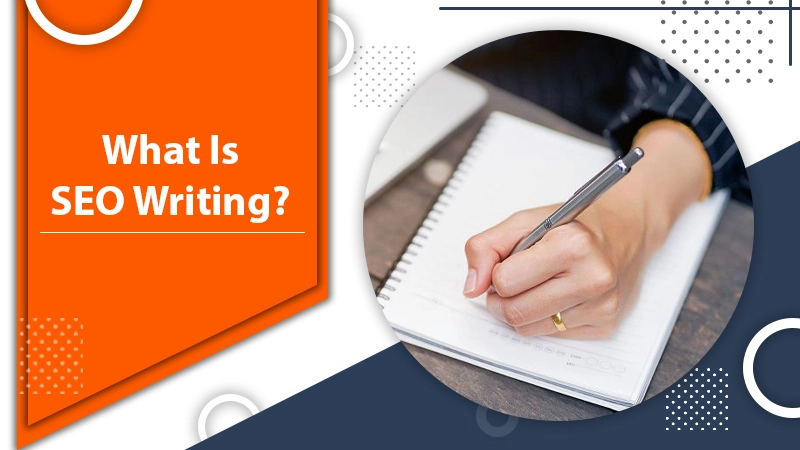 SEO content writing is a form of content writing that implements major SEO elements such as keywords and keyphrases. It is meant to enhance a website's visibility organically. Any content with high visibility is likely to appear on the first few pages of search results as a user tries to search for it. SEO writing is a widely used tactic by content writers and copywriters to boost SERP rankings.
The Significance Of SEO Content Writing
As we have mentioned, SEO content helps a site gain a higher position and greater visibility. This is the biggest reason SEO writing is always high in demand. Once a website ranks higher on the search engines, the business is more likely to get visitors and better sales. Hence, an SEO content writer can be highly profitable for any enterprise, company, or organization.
The Fundamentals Of SEO Writing
Let's talk about the basics of SEO content writing services.
When it comes to SEO content, a writer should take carefully assess the topic or keywords assigned. Here's how:
Type the keyword in the keyword checker tool of your choice.
Look for the total number of searches for that specific keyword in one month.
Carefully assess the competitors for that particular keyword. In case it is a high competition keyword, then it would be better to go for a low competition one. This is the strategy to rank for that keyword.
Always use keyword tools as they help in recognizing the keywords that you can use while writing an article or blog. It helps in maintaining the keyword density and prevents you from getting penalized by search engines due to keyword stuffing.
Every SEO Content Writer Must Possess These Skills!
It's time to finally answer the query, "what is a SEO content writer?"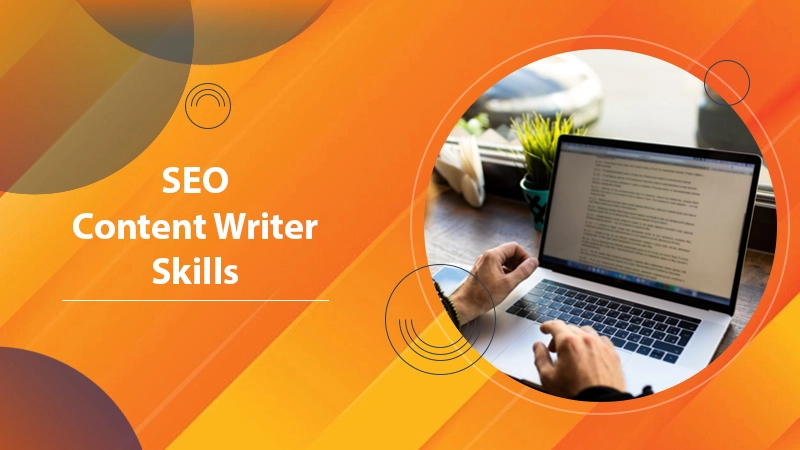 An SEO content writer is someone who understands search engine optimization and produces informative, relevant, and compelling content.  The ultimate goal of an SEO content writer is to attract organic traffic to a website or web page through top-notch quality, keyword-rich, optimized content.
Here are the requisites for an SEO content writing specialist:
Sound knowledge of composing grammatically correct, clear, and concise content.
Always focus on what the wants of your readers are.
Make sure that the SEO efforts seem natural.
Conduct in-depth research on the topics you are unfamiliar with from credible sources. This is the best and successful way to serve your audience with high-quality content.
Take care of the tone to engage the readers.
Be mindful of the deadlines with proper time management skills.
Some additional tips to strengthen your SEO writing game and ensure unique outcomes:
Produce target-specific content.
Make sure to maintain the keyword density as per the search engine guidelines.
Avoid using complex language. Instead, always focus on writing simple and easy-to-understand statements.
Keep the web pages short.
The titles should be enticing to propel the readers' interest in the content.
In the case of a web page, divide the content into multiple short paragraphs.
The Key To Producing SEO Friendly Articles
When it comes to composing SEO-driven content you need to be mindful of certain factors. The professional SEO content writing services always stick to the basics, such as:
Make sure to use the keywords directly in the content. It simplifies the search and gets the content identified by people looking for it.
Take care of the grammar, structure, and organize information carefully.
The content should be easy-to-understand and engaging.
Use appropriate headings that provide readers with the crux of the content.
Do not forget to proofread your content before final delivery.
Winning Tips To Refine Your SEO Content Writing Skills
Regardless of what you are writing about, here are some SEO writing tips -to help you produce high-quality content every time!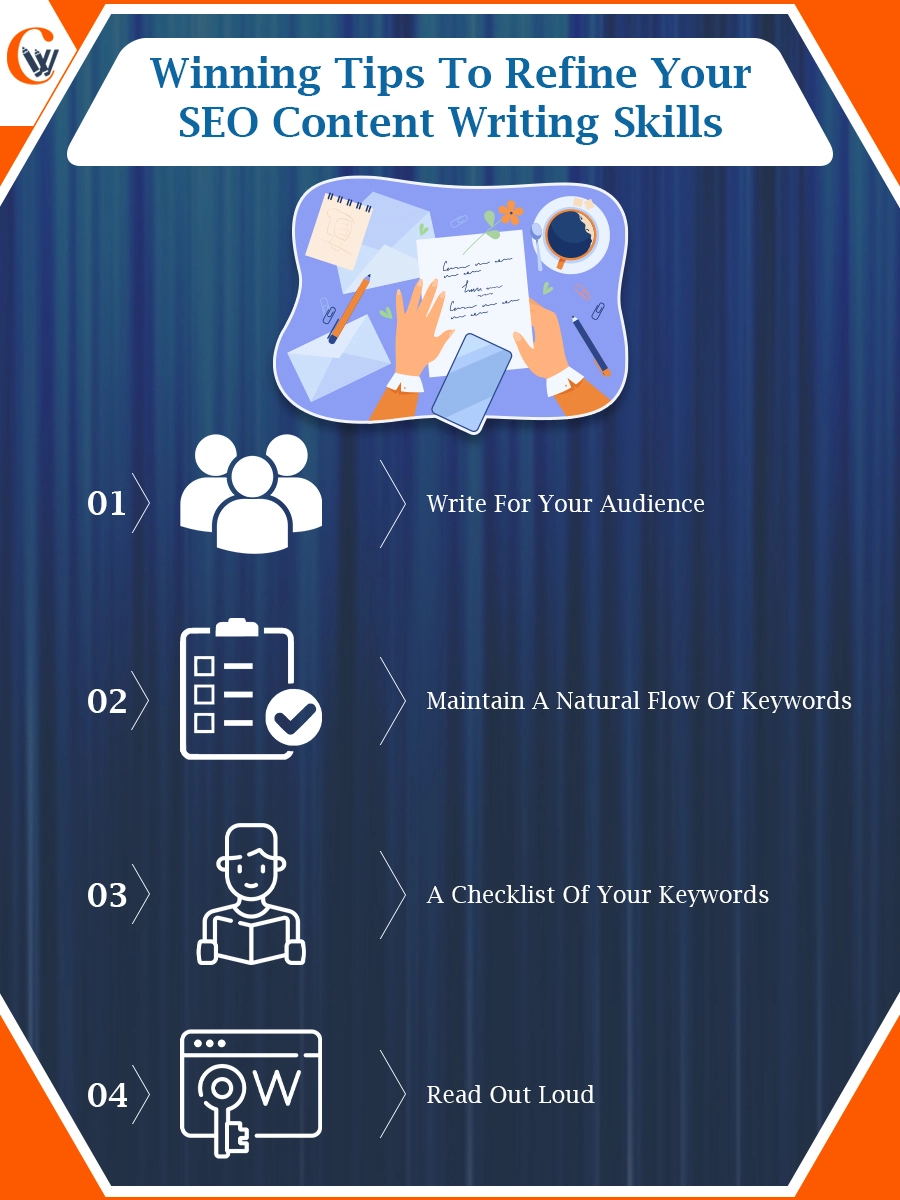 Write For Your Audience: It is natural for the tone to differ while writing on different subjects. However, always focus on engaging, and informative content that acknowledges all the requirements of your readers.
Maintain A Natural Flow Of Keywords: The placement of keywords should not look or feel forced. Instead, it should make sense and feel natural as the reader goes through your articles or blogs.
A Checklist Of Your Keywords: In SEO content writing, it is always best to keep a list of keywords handy. You can either prepare a word file or simply enlist them on a piece of paper. The purpose is to keep a track of the number of times you have used a certain keyword in the content.
Read Out Loud: The gold old "reading out loud" trick that never goes old! As you read your own content, it will help you identify the "missing" factor and errors that you might have screwed up unconsciously.
Major SEO Terms Every SEO Content Writing Specialist Must Know!
The world of search engine optimization includes many different technical terms. If you are an aspiring SEO content writing professional, or already working in the industry, knowing these certain SEO terms will smoothen your journey. Let us help you understand them!
1. SERPs
The search engine page results are the pages displayed to the users after they search for a query. It's where they click post searching the search engines.
2. SERP Ranking
The exact SERP position on Google is determined by Google's algorithm as the most relevant result on a certain query.
3. Long-Tail Keywords
A 3-5 word long keyword, though longer but more specific with a higher conversion value. For instance, "red sheath dress for sale New Jersey". Due to their specificity, they are queried less.
4. Meta Description
A concise summary of a web page that appears under the website on the SERPs. The meta description includes information about the page. Ideally, it is up to 160 characters long and enticing enough to compel the readers to click on the results.
5. Anchor Text
In SEO writing, anchor text is the clickable text within an HTML hyperlink that directs the web traffic to other web pages.
6. Title Tag
An HTML code that let enables you to provide a title to any web page. The title tags appear in the SERPs and in the browser title bar.
7. Search Queries
A term or a string of words that a user types in the search engines to get a certain piece of information.
8. Search Volume
The total number of search queries made on a particular keyword within a month's span.
9. Click-Through-Rate
The percentage of actions advertisers receive on their posted ads is divided by the total number of impressions.
10. Conversion Rate
The number of visitors who take the desired action is divided by the total number of visitors.
11. Organic Traffic
The traffic on a website comes through unpaid means. Basically, it is free traffic that lands on a website naturally. It doesn't require paid effort.
12. Structured Data
The data, such as metadata, keywords, and HTML, is predefined and formatted as per a set structure. Structuring makes crawling and indexing pages easier for search engines.
13. Ranking Factors
The factors search engine algorithm considers while determining the ranks of web pages.
14. Backlink
A hyperlink that moves traffic of a page to another, either from internal means or externally.
15. Page and Domain Authority
A score that shows the authoritativeness of a site or page on a scale of 1-100.
16. Page Views
The total number of times a page is viewed.
17. Organic Keyword Difficulty
The metric that shows how difficult or easy it is to rank on a specific keyword via organic search. 
These were some crucial SEO aspects important to refine your understanding of search engine optimization-oriented content.
How To Become An SEO Content Writing Expert?
If you are someone considering stepping into the world of SEO content writing services, here are some things that you should consider.
First and foremost, it is essential to have a flair for writing. Whether you are into SEO writing or generic writing, get your basics clear. Having a certification or college degree is not mandatory. However, if you have one, it will surely help.
This one is a no-brainer! Gather all the knowledge related to search engine optimization such as keyword usage, ensuring a natural flow and maintaining keyword density, etc.
The next step would be the practical application of your skills and knowledge. You can always take up freelance SEO writing projects or apply for a full-time position. It helps in building up your portfolio and opens new doors to unimaginable career opportunities.
As an SEO content writer, you must refine your research skills. Most of the time the client will provide you with a set of keywords. Although, there could be times when you may have to prepare the list of keywords by yourself. Hence, always be ready for the research.
Remember that learning is an ongoing process. Therefore, make sure to stay updated with the latest advancements in the SEO world. Alongside, it's always great to learn new ways to boost your writing skills.
Additional Skillsets For A Successful SEO Content Writer
By now, you must have gained a fair understanding of what is a SEO content writer and the fundamental requirements of an SEO writer.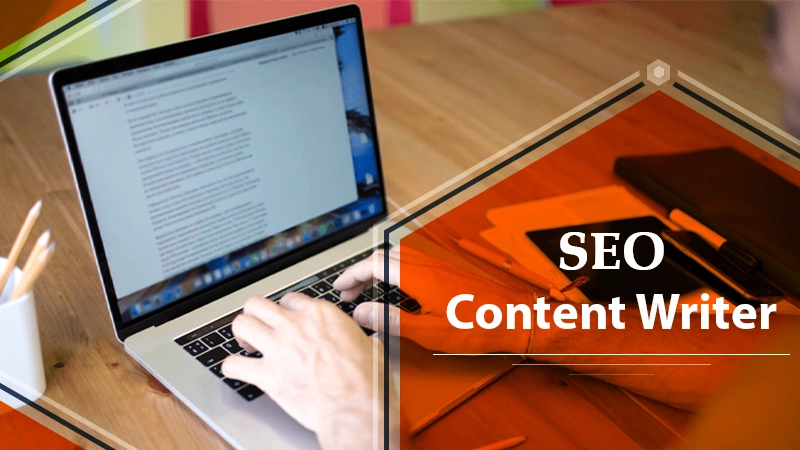 Here are some additional ultimate set of skills to become an outstanding SEO content writer:
Adaptability: Prepare a landing page with a concise copy. It must entice the readers into taking an action.
Good Knowledge Of SEO: You must know what is SEO writing, and should be familiar with the ongoing SEO trends. This includes writing SEO-optimized titles and descriptions.
Excellent Focus: You cannot write without proper focus. Hence, an SEO writer must be able to handle large-scale or smaller projects.
Capacity To Meet The Deadlines: A professional should always possess good time management skills. As an SEO content writing expert, you must adhere to the promised deadlines while ensuring readability and quality in the content.
Wrapping Up
When it comes to SEO content writing services, content plays an equally important role as SEO efforts. While you should focus on keeping the content unique, informative, and crisp, always take care of optimization. SEO helps the content rank on the SERPs and helps it in getting "found" by the target audience. In this post, we explained what is a SEO content writer, and the necessary skills required in an SEO writer. We also discussed the major types of SEO and how you need to work on the meta, keywords, descriptions, etc., as a part of your SEO strategy.