The way you create a picture of a story in the readers' minds demonstrates your writing skills. From developing any idea to providing words to your story, everything reflects the power of your creative mind. It also uncovers the concept of narrative essay writing. Pouncing on describing an incident in an imaginary way will lead to you writing a narrative essay.
If you are wondering how to write a narrative essay, you need to read the entire blog precisely. In this write-up, you will find insights and proper comprehension to get the cornerstone of narrative essay writing. Moreover, the depth of ingenuity advances your skills of essay writing and stamps your ideas on the readers' minds properly.
What is a Narrative Essay?
A narrative essay tells a story or the authors' personal experience. The word "narrative" compliments the word "story." In narrative essay writing, authors picturise the complete story of an incident in their words and tend to capture readers' attention. How you project your words or ideas and objectify emotions unveils the effectiveness of your narrative essays.
While writing the narrative paper, you need to contemplate the starting, middle, and conclusion parts deeply. Every part of an essay can change its impact and projection.
Elements of a Narrative Essay
The prominent objective of a narrative essay is to inform or tell a story to readers.
In this type of essay writing, the writer acts as a storyteller.
With the central motif of sharing a story, the author emphasizes describing the characters and events rather than just telling.
A narrative essay chronologically unwraps the information.
It should be written in 1st person voice or can use an informal tone.
One can include dialogue in this essay writing to make their experience more original.
Narrative Essay Examples
My First Job In City
Getting a desired job is a dream of many pass outs. When I have completed my engineering and wanted to start a new life, Florida seems an approachable option. My mind was dwelling around plenty of thoughts: how would I manage all things and how to knock on the right door at the right time. However, the struggle was so intense as I was part of town living. Adjusting to city life was so painful and excruciating.
When I had to go for my first interview, the distance between night and morning was so long. I was scared and puzzled about where to go alone. I had no friends in the city. Anyhow, I asked my brother to guide me on how to travel to reach my destination. Nothing seemed so cooperative when I started my journey in Florida. There were so many buses for traveling and plenty of routes to remember. And, my heartbeat got high when I thought about metro travel.
In the meantime, so many things popped into my mind when I thought about my first interview. Somehow I managed everything but my confidence and my voice were not so good that day. My first job was only for 2 months without any payment. However, I had to start a new search for another job. In my whole journey, I had learned one thing: fulfilling your dream in the hustle-bustle of city life is like a pain in the neck. But, your dedication and a sense of patience will help you to figure out the situation smartly.
Tough to Handle Overflowed Emotions
Falling in love is the most amazing feeling of one's life. Getting someone's attention all the time creates unforgettable moments in our lives. Unwrapping my emotions for someone close to my heart gives me complex feelings. It is an amalgamation of bitterness and sweetness. He was smart and sweet. He was with me 24×7 without saying the three precious words "I love you." He bore my anger and the most pathetic side of my personality.
Everything was normal when we were in the same city. I got to realize my love for him when we were separated. I felt the most intense tenderness when he was away. Due to job complexity, we could not share messages and phone calls normally. However, I was also busy on my journey so the situation was easy to tackle.
The worst part of the story was when he left me for no reason. He was no more in my life after 2 years of love. He married someone else and left me to bear the pain of emptiness. My overflowing emotions did not have the right track to flow. It took a year to come out of the zone of sadness and pity. Now, everything is fine. Things happen for a reason and you have to understand it.  I change my question "why me" and start a new journey to search for the purpose of my life.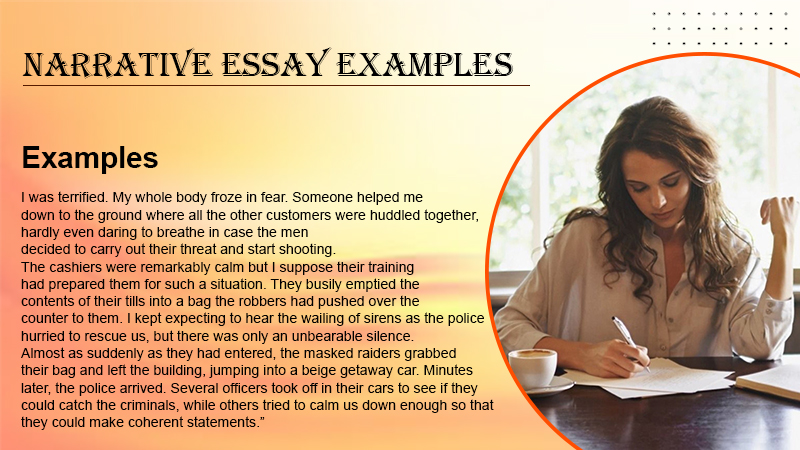 How to Structure Narrative Essays?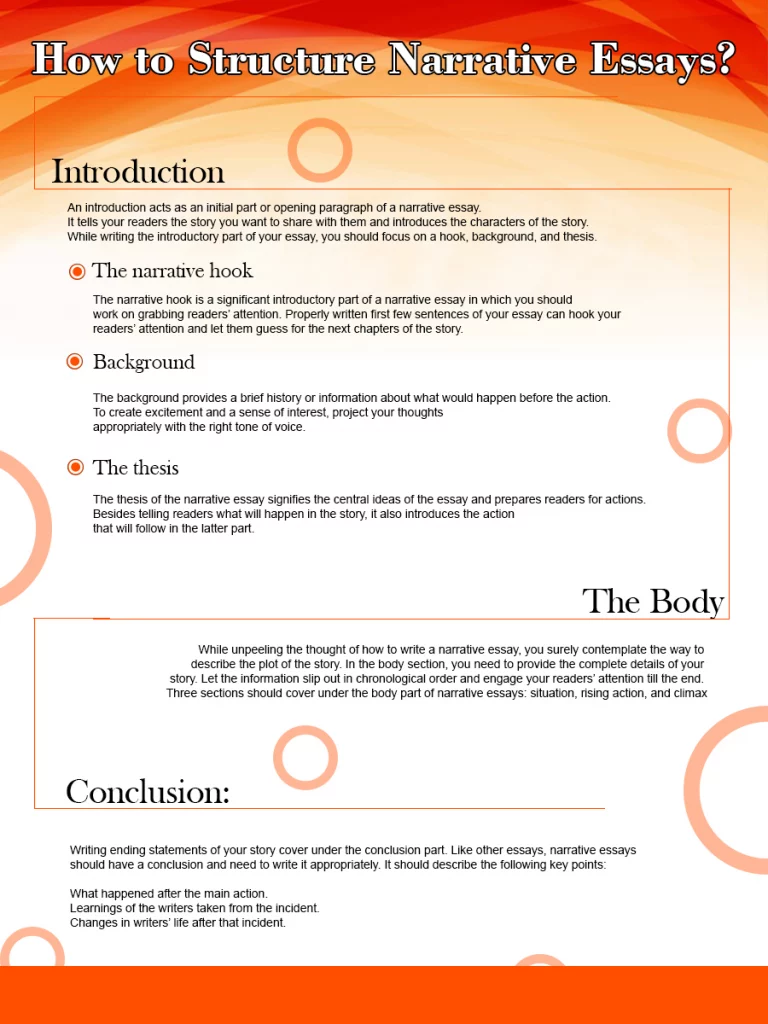 To enhance the impact of your essay writing, cover everything in the most organized manner. From start to end, every aspect of narrative essay writing demands your utmost attention. While chewing over the structure of narrative essays, we divide it into three segments:
1. Introduction
An introduction acts as an initial part or opening paragraph of a narrative essay. It tells your readers the story you want to share with them and introduces the characters of the story. While writing the introductory part of your essay, you should focus on a hook, background, and thesis.
a) The narrative hook
The narrative hook is a significant introductory part of a narrative essay in which you should work on grabbing readers' attention. Properly written first few sentences of your essay can hook your readers' attention and let them guess for the next chapters of the story.
b) Background
The background provides a brief history or information about what would happen before the action. To create excitement and a sense of interest, project your thoughts appropriately with the right tone of voice.
c) The thesis
The thesis of the narrative essay signifies the central ideas of the essay and prepares readers for actions. Besides telling readers what will happen in the story, it also introduces the action that will follow in the latter part.
For example,
 "Because his pride would not allow him to apologize, Ken now had to fight the bully, and he was pretty sure that he would not win."
2. The Body:
While unpeeling the thought of how to write a narrative essay, you surely contemplate the way to describe the plot of the story. In the body section, you need to provide the complete details of your story. Let the information slip out in chronological order and engage your readers' attention till the end. Three sections should cover under the body part of narrative essays: situation, rising action, and climax
Note: Make sure to include some adjectives in your sentence to provide soul to your story. The more description you will add to your story, the more the reader will connect with your narration.
3. Conclusion:
Writing ending statements of your story cover under the conclusion part. Like other essays, narrative essays should have a conclusion and need to write it appropriately. It should describe the following key points:
What happened after the main action.
Learnings of the writers taken from the incident.
Changes in writers' life after that incident.
For example,
"The little boy had finally learned that telling the truth was the most important thing to do. Hopefully, he will continue the practice of telling the truth in his life."
How To Develop A Narrative Essay?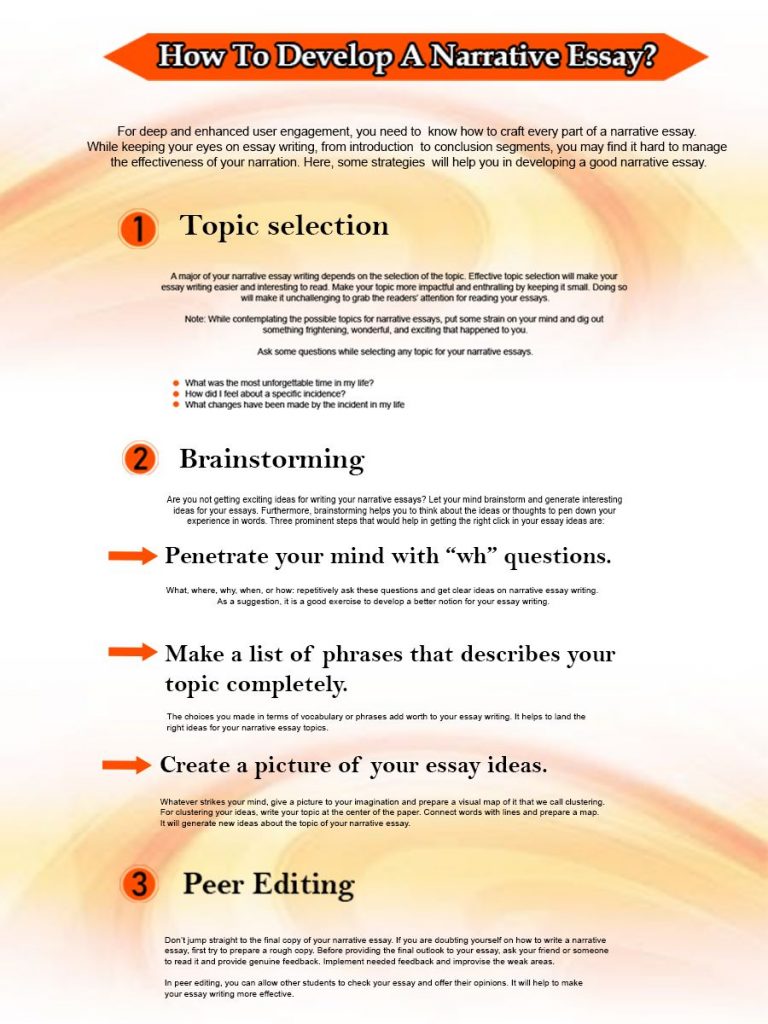 For deep and enhanced user engagement, you need to know how to craft every part of a narrative essay. While keeping your eyes on essay writing, from introduction to conclusion segments, you may find it hard to manage the effectiveness of your narration. Here, some strategies will help you in developing a good narrative essay.
1. Topic selection
A major of your narrative essay writing depends on the selection of the topic. Effective topic selection will make your essay writing easier and interesting to read. Make your topic more impactful and enthralling by keeping it small. Doing so will make it unchallenging to grab the readers' attention for reading your essays.
Note: While contemplating the possible topics for narrative essays, put some strain on your mind and dig out something frightening, wonderful, and exciting that happened to you.
Ask some questions while selecting any topic for your narrative essays.
What was the most unforgettable time in my life?
How did I feel about a specific incidence?
What changes have been made by the incident in my life?
2. Brainstorming
Are you not getting exciting ideas for writing your narrative essays? Let your mind brainstorm and generate interesting ideas for your essays. Furthermore, brainstorming helps you to think about the ideas or thoughts to pen down your experience in words. Three prominent steps that would help in getting the right click in your essay ideas are:
1) Penetrate your mind with "wh" questions.
What, where, why, when, or how: repetitively ask these questions and get clear ideas on narrative essay writing. As a suggestion, it is a good exercise to develop a better notion for your essay writing.
For example,
The Eiffel Tower
Where is the Eiffel Tower, situated? Why is the monument so desirable to visit? How was your experience of visiting the Eiffel Tower?
2) Make a list of phrases that describes your topic completely.
The choices you made in terms of vocabulary or phrases add worth to your essay writing. It helps to land the right ideas for your narrative essay topics.
3) Create a picture of your essay ideas.
Whatever strikes your mind, give a picture to your imagination and prepare a visual map of it that we call clustering. For clustering your ideas, write your topic at the center of the paper. Connect words with lines and prepare a map. It will generate new ideas about the topic of your narrative essay.
3. Peer Editing
Don't jump straight to the final copy of your narrative essay. If you are doubting yourself on how to write a narrative essay, first try to prepare a rough copy. Before providing the final outlook to your essay, ask your friend or someone to read it and provide genuine feedback. Implement needed feedback and improvise the weak areas.
In peer editing, you can allow other students to check your essay and offer their opinions. It will help to make your essay writing more effective.
Do's & Don'ts of Narrative Essay Writing
What you should circumvent or what you need to follow in your narrative essay writing can make your effort more worthwhile. It helps you to create the desired image of your words in the readers' minds.
Do's 
Choose an exciting and interesting topic to write a narrative essay.
Make sure to pick the right narrative hook at the very beginning of your essay. So, you can compel readers to read it carefully.
Be clear while drafting the statement of your point in writing the narrative essay.
Infuse the right words into your story so the readers can feel it.
Follow a logical order while presenting your thoughts in a story.
Use uncomplicated and easy to interpret language in your narrative essay.
Prefer to use the first-person point of view.
A conclusive part of a narrative essay should provide a moral, prediction, or revelation.
Don'ts
Don't create fictional stories in your narrative essay writing.
Don't just tell a story in your narrative essay; allow readers to feel it and visualize it in their minds.
No need to be too descriptive while sharing your experience of an incident.
Don't prefer to use excessive formal language or arguments.
Don't use second-person perspectives in your narrative essay.
Examples of Narrative Essay Topics
A most unpleasant experience of your life.
The most unforgettable moments of your childhood memories.
Your favorite family trip
An incident that changes your perspectives of your living.
The most tragic event of your life.
How you met your best friend.
Significance of cultural values in your life.
Experience of your first job.
How did you meet the love of your life?
The hidden side of your personality.
Wrapping Up
In a nutshell, narrative essay writing helps you to develop your cognitive as well as imaginative skills. How your words create a story in the reader's consciousness and the depth of your emotions reveals the proficiency of narrative essay writing. If you are messing with anything in writing narrative essays, divert your mind to essay writing services. Using the option of essay writing help, you can discuss your concerns with highly professional writers.