When it comes to demonstrating your writing skills, working on expository essays is the most effective mode of written communication. Indeed, essays express the broad characteristics of perspective and ideas that need to be shared. If you choose to write lots of essays, you can develop better intellectual skills and writing attributes. However, some essays present information in a very precise manner, and some essays offer solutions to the problems. An expository essay is one of the four types of essays: persuasive essay, descriptive essay, and narrative essay. This type of essay lets readers get more insights on a particular topic. Let's uncover the depth of the expository essay with us and know how to compose the complete essay with proper insights.
What Is An Expository Essay?
Expository essay definitions focus on explaining a topic more precisely. This type of essay demands a proper process of investigating your selected topic and collecting information as needed. In an expository essay, you have to describe everything in a well-structured manner so that readers can understand what you want to tell them.
In detail, expository drives come from the word "exposition". According to the dictionary, exposition means "a comprehensive description and explanation of an idea or theory." Now, it is easy to predict the crux of an expository essay is to explore any topic or idea using sufficient evidence.
Key Points of Expository Essay
Explains a topic or idea based on proper information.
Communicates factual information precisely.
More than entertaining or persuading the reader on something.
The prominent purpose of an expository essay is to inform, explain, or describe.
Writers act as a teacher.
An expository essay acts as an assessment of your knowledge and comprehension.
Step by Step Approach To Write a Compelling Expository Essay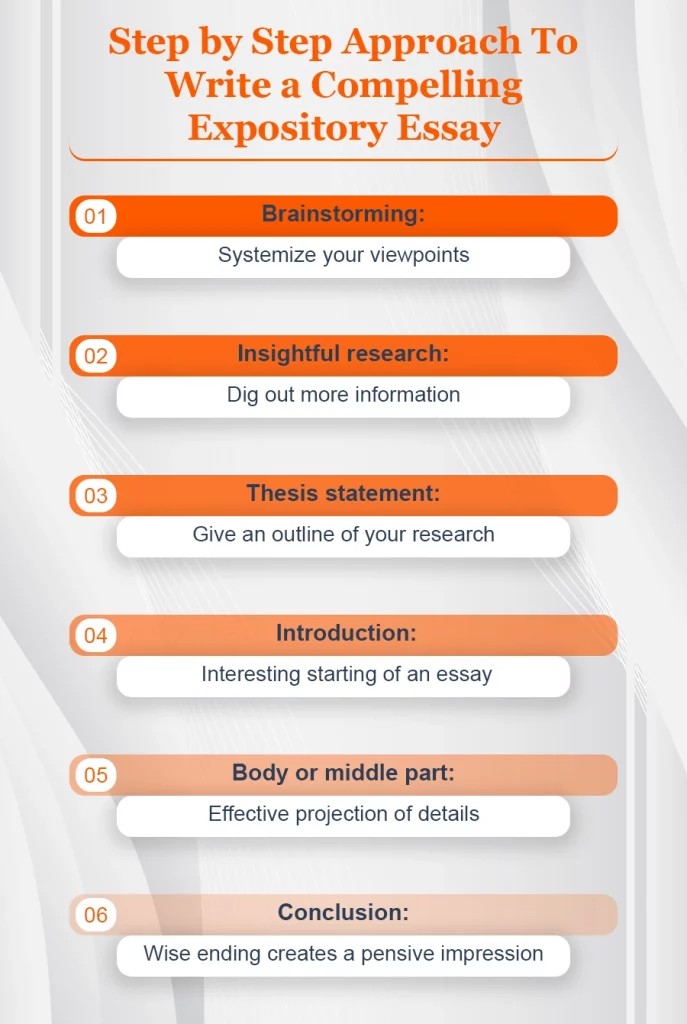 1. Brainstorming: Systemize your viewpoints
How to start your expository essay allows you to contemplate a topic and draw a picture of it into your mind. Before pen down your stimulating thoughts on a piece of paper, you need to organize them in a definite format. It is the most significant step in writing an expository essay to comprehend what you know.
To systemize your thoughts, you can opt for the following methods:
Choose to write freely and keep editing or self-correcting parts for later.
Draw a tree of related ideas that should connect to your main topic.
Make a list of your objectives for the topic.
Prepare an outline of your essay that clearly demonstrates the introduction, body, and conclusion parts.
2. Insightful Research: Dig out more information
Whatever method you choose to perform research, make sure to gather relevant information. Going to a library (physical or digital) is always a beneficial step. Indeed, writing an expository essay reveals the significance of academic writing in which the acceptable sources are books, scholarly articles by experts, and reference works.
While grabbing information from a website, ensure to check its credibility. Another imperative segment of writing essays is to circumvent plagiarism.
3. Thesis statement: Give an outline of your research
A progressive step in what is an expository essay is to create a thesis statement. There are two main elements of composing a thesis statement: a claim and supporting information. While focusing on the part of the claim, you need to figure out the point you want to make. You also need to think about what you are trying to say.
Your claim could be debatable and based on generalization. However, the tricky part of preparing a thesis statement is how to infuse supporting details into the statement. It can be categorized into three different zones:
Topics to provide a beginning statement to your thesis statement.
Chronological or logical order to project all relevant information.
Effects of the study.
4. Introduction: Interesting starting of an Essay
The introduction may seem a general part of writing an expository essay, but it can change the complete picture of your thought process. How you project your viewpoints at the very start of your essay will provide a roadmap for further analysis.
Most prominent elements of an introduction:
Explanation: Identity, define, and explain the topic in the introduction part. It should include them and tell readers what you are going to describe in the entire essay.
Relevance: Do not go out of track while writing any information related to the topic, especially in the introduction.
For example:
If you are writing an expository essay related to pollution, do not start your essay by saying "this is an essay about pollution." Despite this, start your introduction with "Drastic changes in the  pollution levels are killing thousands of people every year." You can also add numerical values to support your arguments.
Note: For effective projection of thoughts in the introduction part, one can use questions, statistics, examples, quotations, and anecdotes. Ensure to keep your introduction short and easy to understand.
5. Body or Middle Part: Effective Projection of Details 
To expand your readers' interest and make them more thrilled while going deep, the middle part of your expository essay should be informative. In this section of your essay, the research part plays a vital role. It makes you more confident while sharing the information with your readers.
While putting your energy into writing the body part of the essay, make sure to divide it into smaller subtopics or paragraphs. At least, use three paragraphs in your expository essay. In this part of your essays, unwrap facts, figures, and examples supporting your main topics and arguments.
6. Conclusion: Wise Ending Creates a Pensive Impression 
While providing the final look to your expository essay, the conclusion demands a sharp-witted approach. An interesting introduction compels your readers to read the complete article whereas the conclusion part lets them think about it more deeply.
When you are ready to wrap up your essay, provide a brief of what is the main learning of your writing. No need to include any additional or new information in your conclusion part. In a nutshell, your conclusion should engagingly halt your writing.
Things To Discuss On How to Write An Expository Essay
The first paragraph of an expository essay should render a clear, concise, and defined topic sentence. It will help your readers what you are going to express in your essay as a writer.
Body paragraphs should contain evidence and proper factual information. Make sure every paragraph should be centered on a specific general idea revolving around your main topic.
Maintain a clear and rational transition between the introduction, body, and conclusion parts. If you fail to offer smooth transitions between each part of your writing, readers can't get your arguments. As a result, your expository writing will collapse.
Make sure to not lose your uniqueness and creativity. While sharing your arguments on a piece of paper, you should not lose your creativity even if you are about to share factual information.
Infuse proper support or evidence in an expository essay to present your thoughts about the topic precisely. If you are lacking statistical or factual evidence, you should demonstrate the level of reasoning skills.
Just go beyond the restating the topic sentence in your conclusion part and allow it to be more engaging
A Five-Paragraph Approach in An Expository Essay
While having so many variations in writing an expository essay, you can have a definite approach to reap the best outcomes. In case, if you can't find the right way to pen down your thoughts, follow a five-paragraph approach. Breaking the traditional way of writing and putting your perspective in a more organized way using five-paragraph essay writing:
Start with a compelling introduction.
Include three evidentiary body paragraphs in the middle part.
End up your whole essay with a stimulating conclusion.
Expository Essays Types
Going through different credible sources, we find that expository essays are of four types.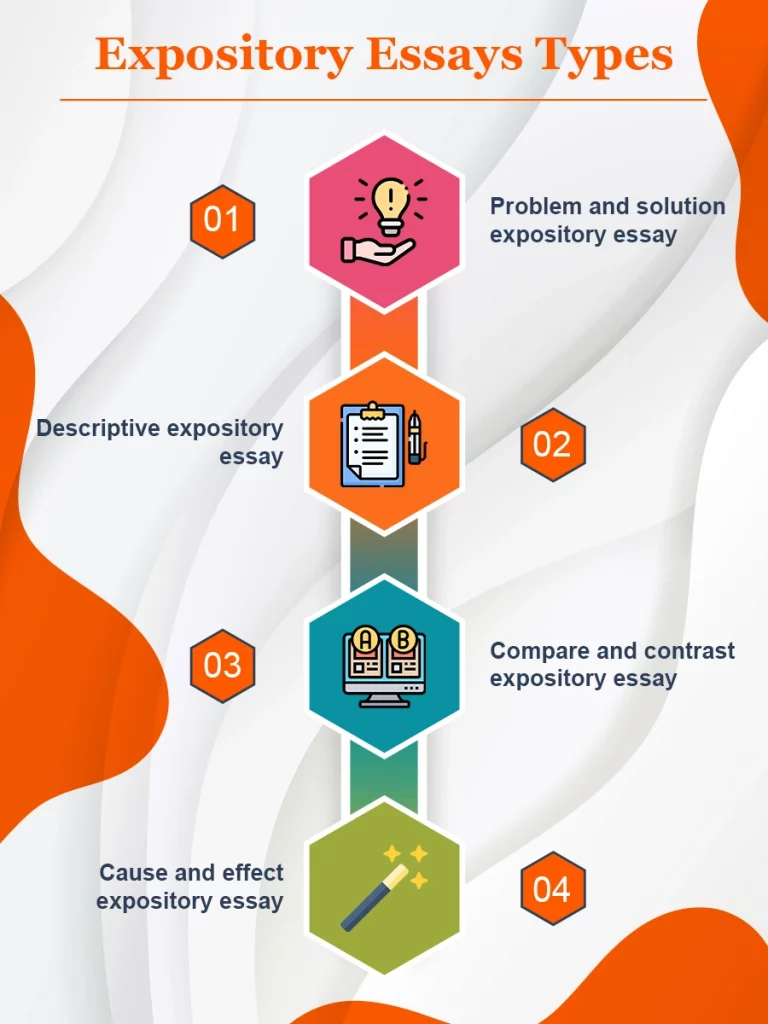 1. Problem and Solution Expository Essay
there are so many problems to discuss in an essay. But, only sharing the problem without a solution sounds incomplete. In this type of expository essay, the writer presents the problem and its solutions in a more pleasing manner.
2. Descriptive Expository Essay
when you come to write a topic and need to impose a complete picture in the reader's mind, you should use a descriptive approach. In a descriptive essay, share your valuable inputs on a topic without creating a story kind of look.
3. Compare and Contrast Expository Essay
Examining the difference and similarities of any particular topic will lead to sharing your thoughts in a compare and contrast expository essay writing style. For example, comparing and contrasting the significance of digital learning can give an idea of the new technology era of education.
4. Cause and effect Expository Essay
A cause-and-effect expository essay describes how a particular incidence can affect and become the reason for other things to happen. For example, how death could be painful and make drastic changes in someone's life.
Do You Need A Good Start? We Are Here For You!
The dilemma of how to write an expository essay effectively can create chaos in your mind. It may degrade your writing skills or cannot let you create appropriate ideas for your essay writing. Even if you have ideas on expository essay definition, providing an outlook to your thoughts is another important activity. Are you facing the same situation in your academic writing? Do you need professional help in writing your expository essays?
Give a good start to your expository essay with our professional essay writers. Having a strong and excellent educational background, they can rectify your issues connected with what is an expository essay. Find out the right rhythm to share your knowledge and information through your essays using the guidance of our writers. Opt for our content writing services and let our writers work on your essays. They can help you to boost your writing skills and amplify your grades.  So, grab our experts' help and explore what is an expository essay.