The burden of producing more content every day to engage the audience is falling on the shoulders of content marketers every day. Their only choice is to either hire an in-house team or outsource their work to a Freelance Content Writer.
The in-house team of writers needs space and resources before they start giving output to the business. It is an expensive option and only big businesses and enterprises can afford it. Also, it is a stable option for businesses that completely rely on content for the lead generation process.
Coming to outsourcing, businesses can outsource their content requirements by hiring a freelance content writer or outsource it to agencies. Now, this can be a pretty heated discussion. Some might feel agencies can be expensive but are capable of delivering quality work. Others may agree that freelancers can be affordable but may or may not be promising when it comes to delivering quality content. In this article, we will focus on the freelance option only. We will discuss why it may not be the best idea to hire a freelance content writer and what is the better alternative.
But before we begin, let's define a freelance writer. 
Who Is A Freelance Content Writer?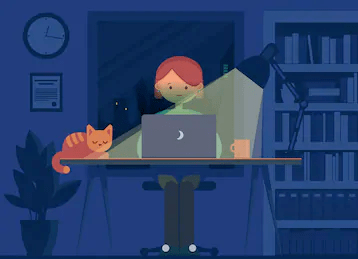 A freelance content writer is a self-employed individual who may work on just one article or bulk project depending on the time availability. They are usually paid after the work though some might even get an advance. They might work every day or just fixed days and show interest in writing content for a variety of niches. Very few people become niche experts and deliver high-value content. Most freelancers do multiple projects at a time to earn a decent amount monthly.
Here are 5 Reasons Why Hiring Freelance Writers May Not Be A Smart Move For Your Business?
1. Difficult to Assess Freelancer Portfolio
You must need to assess the portfolio before Hire a freelance content writer. Good freelancers always maintain a portfolio, whereas newbie or beginners create a portfolio, which is mostly "fake it till you make it." This can impact negatively for the company who is hoping for sales and conversions. Sometimes freelancers show the work of other associates or people in their circle. Assessing if the work of a freelancer is original or not can be a huge task. Agencies, on the other hand, do a complete background check before they hire a writer. They verify the testimonials or recommendations and have resources to cross check their work.
2. Might Lack of Expertise
Your business might belong to a specific niche, which needs an expert's advice. Thus, a freelancer may or may not have the subject matter expertise. A Freelancer usually lacks the dedication and commitment to research for a given topic. They might also lack complete knowledge of SEO. An agency, on the other hand, trains their writers for SEO optimized content and allot work of a client to a writer based on experience and exposure in a given niche. Agencies have access to a variety of premium tools that are needed for editing and proofreading.
3. Quality of Freelancer's Work Might Be Questionable
Quality has always been an issue with freelancers. Since they offer reasonable pricing to the clients they tend to pick up more work from the industry. This brings timeline issues, which ultimately hampers the quality of the content.
Sometimes freelancers build poor teams under them and offer even lower prices to accommodate more work. This further lowers the quality. Most freelancers might not even have decent exposure to writing. This category will lack a writing process, understanding of the audience, and the ability to position a brand for getting leads and prospects. 
An agency understands that content is built with a target audience in mind and a clear goal. They use the best SEO practices to reach both visitors and crawlers.
4. Freelance Content Writer Might Leave Without Prior Notice
Freelancing means an individual is working on a project. People usually freelance when they are either doing part-time work or full-time work. They have very limited hours for taking clients' work and delivering it. Most freelancers do projects as a side gig so that they can earn some extra cash. If such is the case, they might not take your work very seriously. They might keep missing deadlines, submit incomplete work, or even leave the project because they don't want to do it anymore. This can be a very bad situation for a business that is looking to make an online presence and is looking for brand awareness.
In case you tie-up with a content writing agency, you will always have defined timelines. All communications will be kept professional and documents will be maintained on the cloud to avoid any loss during the workflow. Most agencies even sign a contract or MoU to keep the scope of work clear between the two parties along with payments and timelines.
5. Hired Freelance Content Writer Can Be Unprofessional
Unprofessional is the most common description for freelancers. They might lack a complete understanding of how work is taken and submitted. If you hire them, you will have to keep following up with them. Your deadlines will be in jeopardy and content marketing goals will be tossed completely. The best way to escape this is to go for an agency that follows a stringent process no matter who the client is.
An agency usually has a client servicing or a project coordinator that understands the complete requirement. It then introduces the best-suited writer and shares its portfolio with the client. Once the profile is approved, the writer does research and background work on the niche and keywords and write content by combining his experience. The outcome here will always be of high-quality. 
Conclusion
Hiring freelance writers can be a bit of gambling for your business as it may or may not work. If you are looking for conversions or sales through content for your business, then you should always associate with agencies. They have proper teams and experts who guide the writing process all along. If you are looking for such an agency, visit contentwriting.us. We are a full-service Content Writing Company that provides Professional Content Service. Our forte lies in writing logs, articles, listicles, white papers, etc.