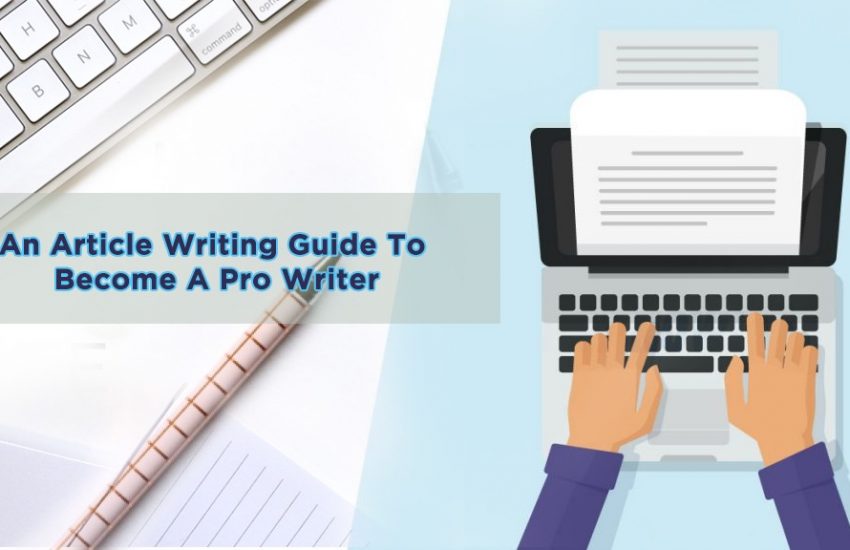 An Article Writing Guide To Become A Pro Writer
Everyone has their story become a content writer. Some of them have dreamed of becoming the ones since their high school or college days, while a few of us have bumped into the article writing profession unintentionally. Well, whatever is the case, once you become a writer, you will surely be going to enjoy this knowledge-filled journey. The writing profession has got an immense potential as well as freedom. It allows you to start as a freelancer, grab a full-time paycheck profession or go on to become a millionaire blogger.
Every professional has their journey, the same happens to you when you begin to write. You need to decide your goals, pick up a niche (like technical writing, novelist, artiste stuff, etc.), and gain relevant experience in the field to get the best outcomes.
As a skilled Article Writer, you need to build your writing portfolio showcasing your skills and expertise. However, if you are a novice in the field, don't worry, we have got you covered here. This comprehensive guide will introduce you to some basic and pro tips to start novice and finish like a decently paid. Let's delve deeper into this amazing writer's den.
How to Kick-Start Into Article Writer's World? 
To start article writing may sound boring, but it's that interesting like producing, directing, and then watching a movie where you have full rights to choose your hero and other plots.
If you are already fond of writing and possess writing samples, then you should start grabbing some freelancing gigs. You might be paid less, but as your experience grows, the money will start rising gradually.
Top writers say – Start less… grow more…build your portfolio from the work samples…
Here are some basic steps to develop your article writing portfolio.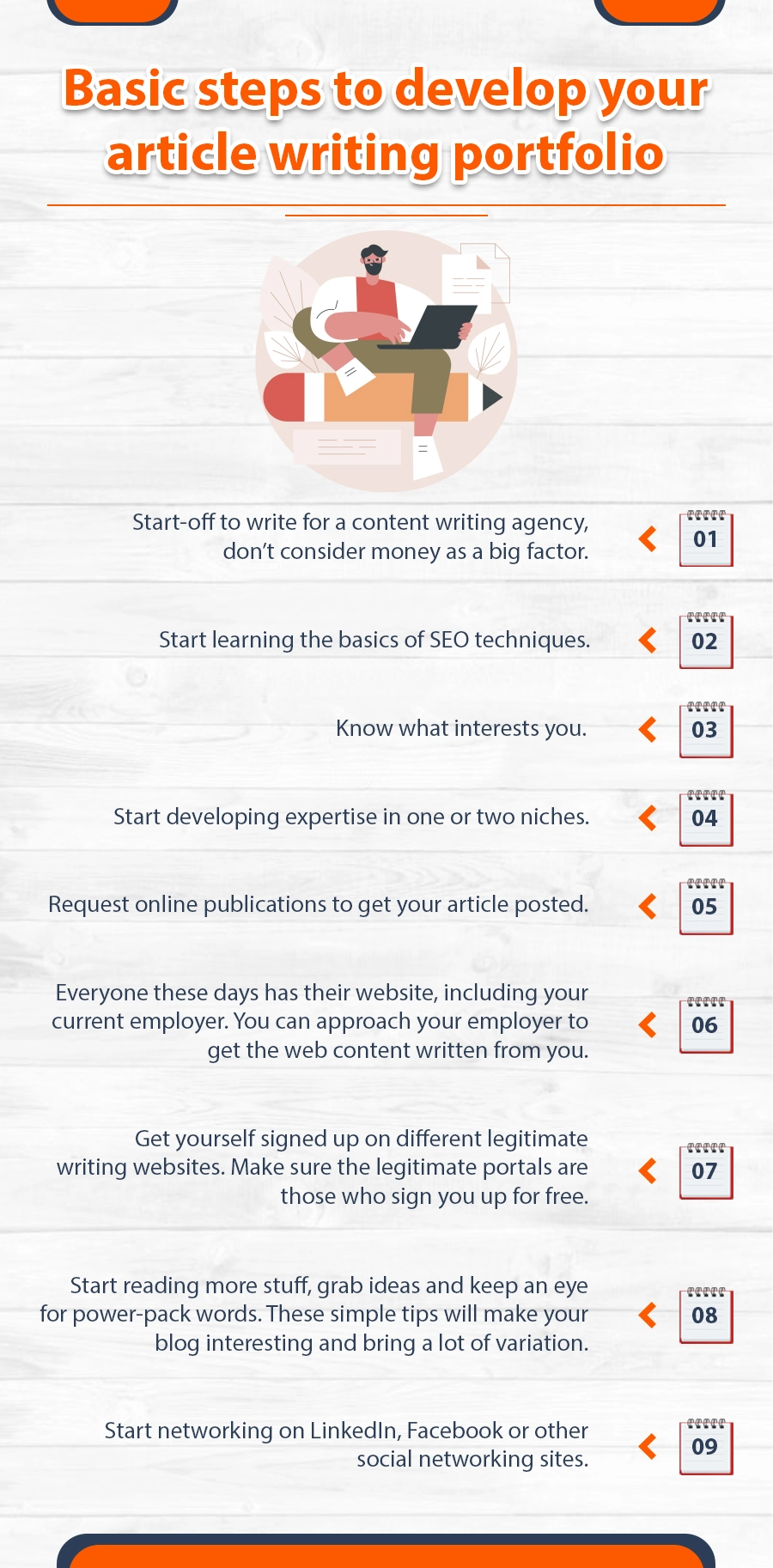 Identify Your Focused Article Writing Genre or Niche 
That's pretty important to have a focused content writing approach. You should identify your writing niche during the initial days or as you start gaining significant experience.
But how to know your focused niche? It's simple. Ask yourself, what you dreamed of becoming in your childhood or what thought gets you the goosebump. Once you do a bit of brainstorming, you will get your answer.
Sometimes, as a beginner writer, you might think of writing as mere research and putting that information on a write-up. But it's not like that. Writing is more of making a dry piece of content into a rich, understandable, and highly-engaging material. And to become successful in passing the relevant information enthusiasms, you should have a passion for that particular topic.
Hence, developing a focus on a particular niche will help you deliver the optimum results to your audiences.
Refine Your Article With Writing Tools 
You put in a lot of effort to write content, spend a lot of time proofreading to find the grammatical errors. Now you can save your time with some superb tools that can help you find grammatical mistakes, writing style errors, highlight passive voices, and some tools even offer you alternate synonyms as well.
What's more interesting is many of them are FREE with some limited access, but they are worth trying. Eventually, with time you can learn those mistakes and won't need those tools to shine your write-up.
Wise Tips To Make Your Article Writing Journey A Massive Success 
You would have dreamed of becoming the most celebrated article writer. Well, that's a good thought. But how to be the one? Here are some hacks you can implement to get make it big in the content marketing universe.
Turn a highly complicated topic into an interesting one. Think of a strong storyline and plot, the characters accordingly.Use conversation statements to make the delivery effective.
Ask questions on your content to engage your audiences.
Use the right tone, use active voice and measure the reading levels with the help of free online tools.
Learn basics of SEO of effectively weaving keywords into H1, meta title, meta description, and H2, H3 header.
Always end the content with a strong call to action to convert the footfall into a sale.
Build the sense of planning keywords naturally into your articles.
Avoid keyword stuffing as it won't help you anymore to rank on search engines.
Grab the knowledge of how your potential audience process the information, embed those learnings on your content to enhance the readability.
Celebrate Your Success And Keep Sharing Your Article Writing Knowledge 
Emerging as a fantastic article writer could be bumpy in the beginning, but that's where you get to learn A to Z of writing. You need to stay calm, be a better observer and live to the fullest to grab maximum ideas. Don't be like a writer thinking sadly and writing badly.
Remember, writing means putting life into a situation to make it more engaging as well as interesting. That might be time-consuming, but we bet, it's going to be super exciting.
Conclusion
Finally, Success is all about – sharing what you learned, but that's something we forget after getting a hit. With knowledge sharing, you can add value to someone's life and uplift your working approach. So, wish you an extremely successful Article Writer journey. Hope, someday you get millions of readers on your website.