Nowadays, with the expansion of technology, the demand for technical writers is on the surge. Technical writing has become a crucial part of technical and occupational sectors, including software, engineering, aeronautics, finance, consumer electronics, forestry, computer hardware, etc. It is a medium that facilitates technical communication, making it easier for the users to understand how a specific product or service works. In this blog, we will explain what is technical writing. We will also throw light on the types, skills required to become a technical writer, and much more.
 Technical Writing Definition
Technical writing is a mode of explaining complex ideas in a simplified way. It focuses on how a product, service, or process works. Technical writing encompasses drafting executive summary statements, reports, briefs, and other subjects that require instructions or directions. Today, technology has paved its way into possibly every sector. Thus, technical content writing has become a significant part of various industries. Earlier, technical writing definition was limited to drafting user manuals, and instructional guides. However, it is now used for various purposes, making it a significant sub-field in technical communication.
The major goal is to present simple, and easy-to-understand content to the readers. It could be presented as press releases, e-mails, reports, policy, etc.
What Differentiates is Technical Writing From Business Writing?
Some people may confuse technical writing with business writing. However, this is absolutely not the case!
To be precise, technical writing is a sub-category of business writing. Technical writers possess a clear understanding of the products, technology, or processes they are writing about. The type of content in technical writing is more specific rather than business writing. Are you still wondering, what is technical writing? Let us explain it this way; technical writers elaborate on how things operate, their functions, how can they benefit the users, how to best use them to your advantage, how to avoid possible hazards while using these products or services. A technical writer aims at disseminating such information conveniently to less technical customers. Therefore, it is essential for the writer to closely understand the product, or subject and indulge in proper background work.
 What Does A Technical Writer Do?
Technical writers bridge the gap between businesses and non-technical consumers. How? They have in-depth knowledge of their niche industry, which enables them to communicate the technical aspects of a digital product to the users. This is highly important to educate the users and enhance the end-user experience. It wouldn't be wrong to say that the tech industry cannot survive and thrive without the help of technical writing.
The technical writers usually hold Bachelor's degrees in Communication, English, Journalism, Computer Science, Technical Writing, Curriculum Development, Software Engineering. Etc. The inputs of an experienced technical writer could help develop new technology. They are skilled in crafting product manuals, website help sections, journal articles, how-to guides with precision.
What Are The Skills Required For Technical Writing?
A technical writer has to be proficient in various aspects, to ensure successful outcomes. Not only does, one has to be good in writing skills, but it is also equally essential to keep up with the recent trends and technology updates.  Let us discuss the primary technical writing skill-set needed to be a successful technical writer.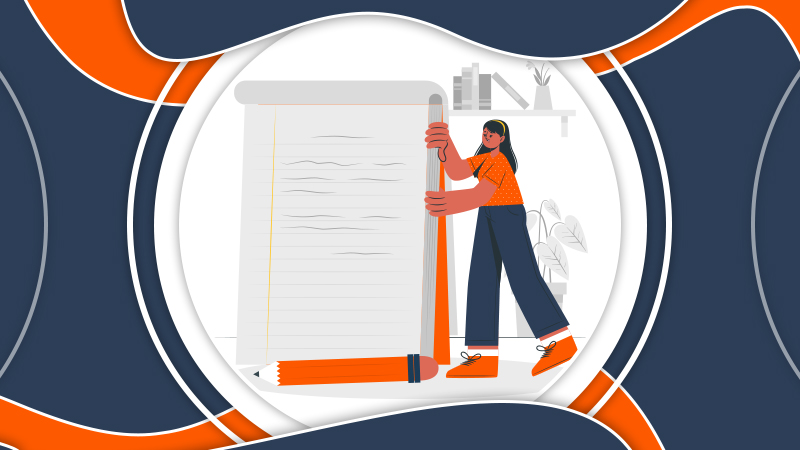 1. Product Knowledge And Understanding 
A professional technical writer must understand the product in the picture clearly. They need to go deep to gain complete knowledge of the product or service, such as:
How it functions
The performance, and stability
Its benefits for the users
Ways to repair, troubleshoot or replace in case of malfunctioning
There is no need to be too specific, concentrating on the internal components of the product. Rather, adding information that would be helpful for the users. For instance, while writing for a software product discuss how it works with other software APIs, hardware interfaces, etc.
2. Research On The Subject
Technical writing professionals have to possess strong research skills. It is highly important for the writer to first have appropriate research skills to ensure valuable information in their documents.
A thorough analysis of the market, as well as audience enables a writer to come up with an informative product guide, or such copies. This is only possible with proper research. One must know how to dig deep and gather the necessary data helpful for successful results. This also prepares you for the project ahead and provides much-needed confidence.
3. Writing For The Target Audience
Before you start to write, identify the target audience and understand their needs. Once the project planning is done, analyze the target audience. This is the biggest factor that could change the entire game.
The writer must draft the information while keeping the audience in mind. Create a copy to ensure a personalized experience for the users. Convey all the necessary facts in easily understandable language.
4. Critical Thinking
This one is a common skill required by content writers, regardless of the niche. However, a technical writing expert must indulge in deep, critical thinking. Why is that important? A tech writing professional must be well-versed in the reasoning, backed up with logic. Furthermore, it is essential for them to be clear with the judgments they make before working on their projects.
This involves collecting the data directly from the business or reliable sources, analyzing the information, and presenting them in a systematic way. Along with that, it is always best to put personal experience to use. Doing this actually facilitates the entire process, and ensures better output.
5. Communication Skills
The most important technical writing skill is communicating the technical information effectively. The entire process of tech writing involves working with different teams, product developers, engineers, to understand the subject in a much better way.
Hence, it is essential to understand their needs and convey your ideas to others clearly. A lack of communication could lead to confusion which might affect the result.
6. Technical Skills
One must have the ability to understand the technical aspects of a product or service. Without the proper knowledge, it is not possible to write effective guides. You need to be clear about all the technicalities related to the product or service.
Once your concepts are clear, only then you will be able to write about them. The idea is to craft an easily comprehensible document to ease up the end-user experience.
7. Writing Abilities
This is one of the most obvious ones. A tech writer must possess a flair for writing to make sure that the end result is useful for the target customers. The foremost focus is on transforming the technical information into readable, and simplified copies. It is equally important to follow the correct format and structuring as per the requirement. Along with that, one should be able to produce error-free copies.
8. Understanding Of The Tools
While developing useful copies is one of the major skills, a tech writer needs to understand how certain tools work. A technical writer might be asked to develop documents in multiple formats. Therefore, they must have an understanding of how certain tools work. This includes MS Word, Adobe Framework, RoboHelp, PageMaker, and more.
9. Testing Skills
After the documentation is done, the writer should be able to verify its usability. Thus, a technical writer must take up the challenge of usability and testing of their documents. This confirms that the product works exactly how they have been explained. The entire process simplifies the user experience, making technical writing specialists an integral part of the team.
Major Types Of Professional Technical Writing
Technical writing is highly important for simplifying complicated, difficult-to-understand topics easily. Without the help of technical writers, it could be quite difficult for businesses to make the end-user understand their products. They help in generating valuable guides and clarifying the concepts.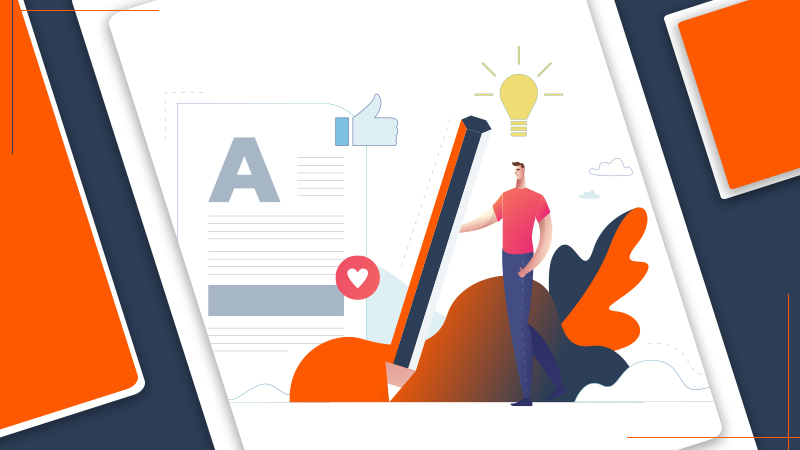 Let us share the different types of technical writing narrowed down into sub-categories.
1. Medical And Scientific Papers
The field of science and medicine involved extensive research. Thus, the technical writers help in organizing the results and findings into a meaningful, and logical manner. It further helps in creating understandable and engaging content for a target audience. Such type of content is generally published in newsletters, journals, and websites.
It is highly important to keep the data well-defined, accurate, and structured. The audience basically includes practitioners, and students who use this data to understand the process, and the outcome.
2. User-Manuals & Assistance Guides
This type of technical writing is a common one, which basically works as a consumer guide for a specific product. It helps in answering queries related to product usage. It certainly enhances the user experience. When a user is looking for answers related to a problem, they simply turn to user guides. This is done to answer the user's queries with an extensive guide, broken down into different parts. The writer has to first indulge in research to come up with all the possible questions that may come up in a customer's mind. Then, include them within the manual.
It enhances the understanding of a product, its uses, without the physical involvement of an individual. Thus, a technical writing professional must master the tactic of developing solution-oriented write-ups explaining how a specific problem can be resolved.
3. Technical Books
The technical books and guides are quite detailed, making them lengthier than typical product user manuals. They generally cover minute details and explain the purpose of a product. It also explains the concepts behind designing a product in a specific way. Moreover, it is essential to write them in layman's language so that they can be comprehended by the non-technical users too. One must have an understanding of structuring, formatting, pacing, word limit as per the document. Along with that, inserting the visuals in a meaningful way increases engagement.
4. Assembly Manuals
This is an essential part of the technical writing category as it focuses on the assembly, repair, and related concerns of a product. Every machine comes is assembled in a certain way, and includes specific parts. Thus, a technical guide is helpful in the assembly or de-assembly of a product. What does a tech writer require for assembly manual writing?
One has to be experienced in repairing the machine.
Should possess research abilities to find easier, or different ways to assemble and disassemble the product.
The understanding of how the machinery operates efficiently.
The complete practical as well as theoretical understanding of the equipment's functioning and repairing.
5. Professional Technical Reports And Reviews
A tech writing specialist should have in-depth knowledge of reports creation for businesses and educational bodies. The corporate content includes business proposals, pitches, stakeholder meetings, legal case reviews, personal activity reports, etc. As we have already explained in the technical writing definition that such documents usually explain the entire process and results of different types of research.
There are various forms of technical reports, such as primary research reports, business plans, short-form proposals, case studies, press releases, etc. For writing such reports, one must be proficient in certain areas including:
Supreme English writing techniques for promising results.
Should have a complete understanding of the business operations.
Knowledge of the concerned process.
Including all the technicalities in the business-oriented content written in simple language.
Popular Industries That Utilize Technical Writing
In the 21st century, technology is expanding exponentially. Therefore, businesses need to embrace technical writing skills to their advantage. Here are some of the industries that require powerful technical writing:
Energy and Chemical
Information Technology
Consulting
Financial Services
Engineering
Manufacturing
Supply Chain
Insurance
Biotech and Pharmacy
There are many more such sectors that highly use tech writing for their benefit.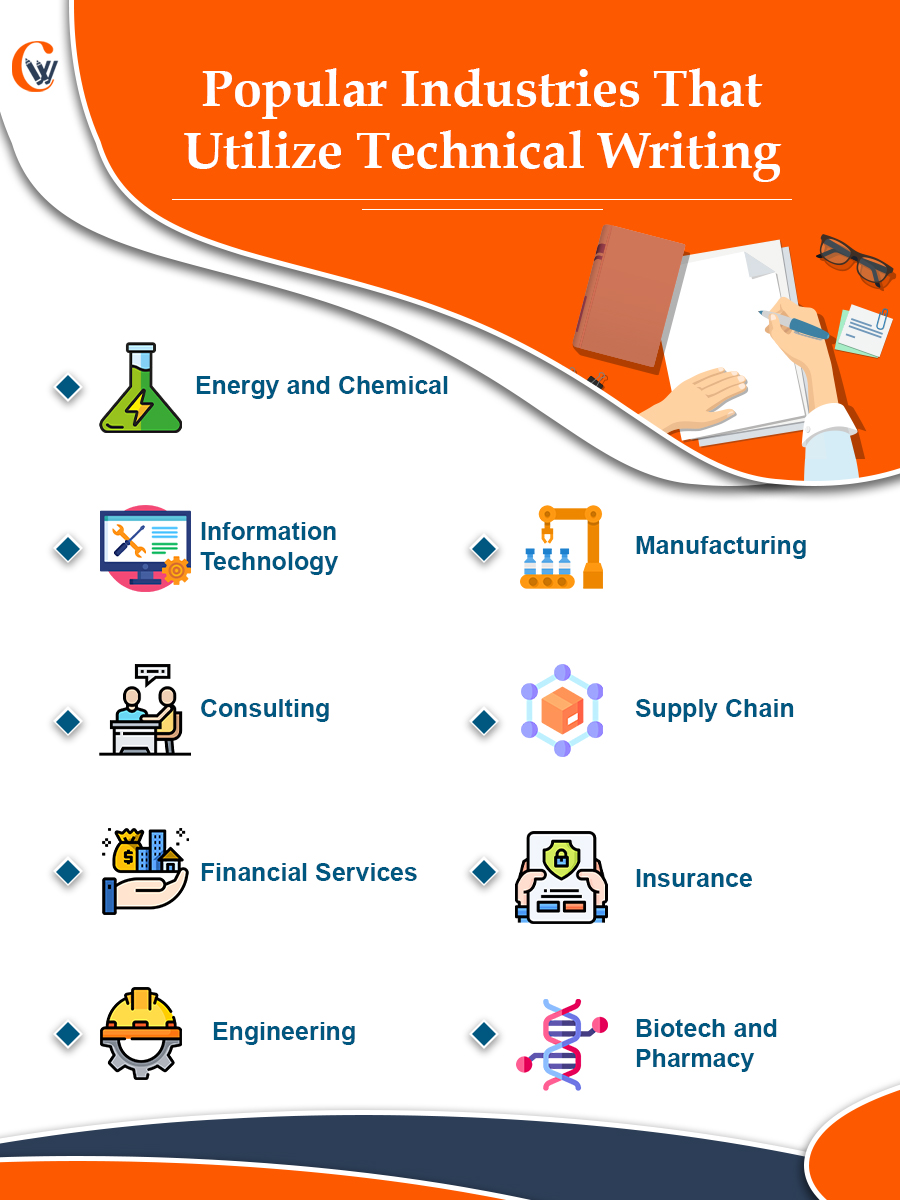 Technical Writing Process
The entire process of technical writing can be simplified by following a step-by-step method. However, there is no rigid way to write a technical copy. You can always evolve and modify the ways with a better approach. However, here is how you can begin a technical project writing procedure.
Planning The Project: Everything starts with a plan. Therefore, you must design a blueprint for your project that you can follow for drafting the copy. Identify the type of document assigned, its subject, the scope, the aim, and the target audience.
Analyze The Audience's Mindset: Next, you need to analyze your audience and identify what would be the best way to convey your message. The message remains intact. What really matters is the way you present it to your target audience.
It should give them the feeling that the content was valuable to them, and educated them in some way or the other.
Readable Content: Technical writing does not mean you should include technical terms and complicated language. Instead, the focus should be on making the content appealing to the general users. The tone and language should be professional, yet user-friendly.
Proper Research Work: A technical writer can only succeed if they have the ability to perform extensive research for their assigned project. One has to be observant enough to catch and include valuable details in their write-ups.
Conclusion
The amalgamation of technology in businesses has made them understand the value of technical writing. Professionally crafted content makes it easier for the users to understand a product or service. It further helps in penetrating the market with well-informed, detailed copies. This means remaining updated with the latest technology, and gaining deep knowledge of the niche industry. Hiring Technical Writing Services is the best way to handle such requirements with top-notch quality, error-free tech content.