What is the first thing that comes to your mind when you see a website? If we were to say, the website is a source of information that tells the audience what niche it belongs to, what information can the user expects, and a detailed description of the product and services the brand or business offers. This tells us what? You need to have quality website content that welcomes the user, immediately tells what the website is about, and makes the information interesting rather than overwhelming. Website Content Writing is difficult as each web page can have only a certain amount of information and therefore it has to be valuable.
Here's a deal
Now if you are a business, you might have an in-house team of website content writers, but even if you don't you can always hire website content writing services.
Thus, let's discuss one by one, what should you look for when you hire an agency to write website content for you.
Here are 10 things that you must look for in your website content writing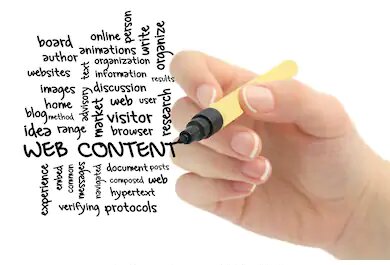 1. A Good Content Structure
The provider must write content that keeps the navigation smooth. Your website doesn't need quantity, but quality content, something that abides by the search engine algorithm and is not too much for your audience to read.
The whole idea is to make a layout first and fix the places that need content. A good content structure is when there are short paragraphs and one or two liners. Avoid putting huge chunks of content.
2. Content Optimized For SEO
The agency must do keyword research for SEO once the project is assigned. These keywords are essential for a website to rank. A good website content writing agency will always know how SEO content is built.
Also, the keywords should be placed throughout the content and also in Meta title & description of the page, alt tags, etc.
3. The Optimization Of Headings on Every Webpage
The headings H1, H2, H3, H4 are the ones that crawlers look for. Thus, these should contain focus keywords or key phrases.
The headlines should be short and crisp indicating what content will follow.
4. Appealing The Target Audience
An agency must consider the end audience before writing any content. A website is always about its audience. In fact, the goal of the website is to serve the audience and give a solution to their queries. Thus, content must answer the what, how, when, etc.
5. Finding the right language 
If you are hiring a website content writing agency then you should always share the tone and personality you want your content to convey. Also, the language should be easy going. Don't complicate it for the users, else confusion can result in them exit the website.
6. Easy to read content
If the content writer is going to call a banana a long yellow fruit, then the reader is not going to respond very well. A writer should keep the content readable and smooth and not complicate things. The writer's job is to make the content appealing and not win an award for "the professional content writer"
7. Explaining The Product/Services Clearly
The website content writer must explain the products and services easily. The user should not be put through using their brain a lot. The content should be self-explanatory. Just by reading the service or product description, the user should understand what it's meant for and what it has to offer. It is best to put it out in the pointers rather than using paragraphs. Also, the content should have some points highlighted because most audiences scan the content.
8. Make The Content Actionable
The whole point of writing content is to persuade the reader and let them take some action. Thus, certain call-to-action like contact now, subscribe to newsletters, call today, etc.
It should be placed in between content smoothly that the user feels like they are obligated to do.
9. Paint A Picture
A good Content Writer always paints a happy picture of the user where they describe the problem and then slide in the solution. This trick never fails to appeal to the user.
For instance: "Is it me, or does everyone think that sugar is the new enemy after 30? Well, if you believe that nothing scares you more than a sugar syrup in mojito or soda drinks then you have to know about our new smoothies. We only follow the sugar that nature provides in fresh fruit and take your stress away by adding chia seeds and oats."
Hope you got the point.
10. Don't Overwhelm Your Audience With Buzz Vocabulary.
If your content is filled with opulence, magnanimous, Brobdingnagian then you must be highly optimistic to think that users will stick around. Buzz vocabulary is good for novels but the website is a whole different story.
Thus, a good writer understands how and what should be included in the content so that it doesn't put off the audience.
Further Instruction For Website content writing 
If your website content is too complicated and is asking the user to put in a lot of effort to understand, then you are out of luck because without a doubt your user will exit. So, how do you think you can improve? Well, the best way is to let the experts take over who does this for a living.
A company that provides Website Content Writing Services can do the best job for you because they will know what content your audience wants to read and how they can persuade the users to take action.
At contentwriting.us you can connect for your website content requirements and explain what outcome you are expecting and who is your target audience and let the writers and editors write bespoke content for your website.