With no salesman around to convince and no store manager to share information on the product, it is only your content that talks to people directly. So, now you know, what is the importance of content and why you need more content to increase your sales.
Let's consider a scenario. You walk into a retail store, the guard immediately greets you then you see a fancy range of products arranged aesthetically and a beautiful showroom that is highlighting the important features of the products with complementing lights and sounds. Then a salesman walks up to you and asks what you need and shows exactly the kind of thing you are looking for. This is called an experience where a brand is taking care of you as a customer and fulfilling your needs.
To replicate the same scenario online is challenging. Therefore it's safe to say that if you want your business to do well online, it's all about content…content…and content.
Another strong reason for curating more quality content every month is budget limitations. For bigger organizations and enterprises, it may not be a big deal as they can spend much on ads to get sales. But for small and medium scale businesses, posting good quality content every day can keep them at the eye level of the customers and increase more chances to increase your sales.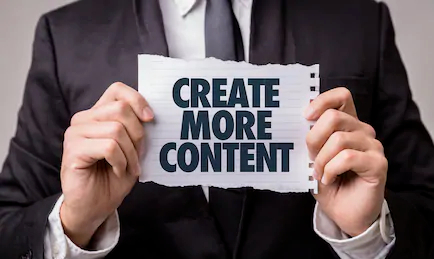 Here's Why You Should Build Good Quantity Content To Increase your Sales
1. Gets the attention of search engines
Search engines are all about keywords and links. If you can find the most searched phrases used by your target audience, then you can use it in between your content. This will improve the ranking of your web pages and will show your products or services against a search query. Thus, increasing the chances of getting sales.
2. It provides value and solutions
As a content marketer, you should know that a single content should promote only one key message. Thus, if you produce more content you can cover more topics. For instance, if you have 5 products in the gym category, you can always talk about each category separately so that if a target audience is reading it they are getting confused with the mix-up of categories and can make the decision of buying or purchasing easily. 
3. Important for a sales funnel
Content finds its place at the top of the funnel where a user is looking for something but not sure from where to buy. For instance, 5-10 people are looking to buy red shoes. Now each person may have a different requirement of these red shoes. Some may want it under a certain budget, some may look for red sports shoes, some may want red loafers shoes, etc. Now if you are selling red sports shoes, your content should appeal only to those who are looking for red sports shoes. These users will enter the funnel and now they are prospects or leads that would like to know further.
4. The biggest way of lead generation
Content in any form such as a blog, article, Infographic, emailer, etc. has the capability to get leads. Even a small post on social media can fetch you traffic from there to your website as a lead. Thus, good quality content finds a high place in the lead generation process.
5. Content can position your brand
Content also places you as authority and positions the way you like. For instance, if you sell handbags starting at $250, you would only like to attract those people who can buy in this range. This can only be done if your content reflects the same. Your content can tell the places where women can carry these bags, features of the bag or how to maintain these bags, etc. 
6. Enhances a customer journey
As discussed already, there is no salesperson to convince your customer hence your only approach is to be good with words. Just by leveraging good vocabulary and power words, you can enhance a customer's experience right from entering the funnel to finally buying the product. You should sound concerned and appreciative and help your user find the product they are looking for.
7. Helps you stand out among competitors
If your competitors are luring your audience with their fancy websites and attractive content then you should work on building content that has an edge. Sometimes it could be a solution to a user query or may a descriptive article on a product with pros and cons, etc. If you continue with this approach consistently then you will soon leave your competitors behind and make your way ahead by increasing your sales.
8. Increases brand awareness
Imagine you have all these great trending products with great variety and options but no one knows about it. How exactly will you sell them? It is like owning a business and not telling anyone about it. With creative and bespoke content you can spread brand awareness. This content can go on websites, social media, and even on third-party sites like guest sites, press release sites, etc. The more you are at the eye level of the customers, the more you can increase your sales.
9. Content can tell your story
Users are more interested in your brand when they know why you started it. It can have different angles such as an emotional approach, a friendship gone right, batch mate's trio starting a tech business, or collaboration on social media. Whatever the background story is you must tell your audience. You may not realize it now but this does work as a USP.
10. Content can nurture your business
Consider this, you have uploaded all your products and updated all product descriptions, made a fancy website, but now what? How will you appear in front of your audience? You need to nurture your business by writing unrivaled content and be out there to entertain and engage your audience on a regular basis because if you don't your competitors will. So make a content calendar and work on a good content strategy based on your target audience. This will ensure that you will end up with good sales.
Conclusion
Creating new and fresh content and publishing is one of the most proven methods for engagement and to increase your sales. If the content is influential and persuasive while engaged,  then there are high chances of getting sales. Though, it is highly recommended to ask only professional content writers to write content for you. The content writing services offered by contentwriting.us are backed by industry experience and a team of prolific writers. We have the most updated knowledge on how to craft SEO-friendly content and get results in the form of sales & conversion. So, wait no more and contact our team today!