One of the significant challenges that content marketers encounter is creating great website content. If done rightly, good website content can make a website come at the top of search engine results pages. Visitors don't spend a lot of time viewing a web page. If the content on your website or a landing page cannot capture their interest, they won't waste a second in leaving it. Often, you might have your notes with you, yet the task of turning them into captivating and compelling web copy might seem like a big hurdle. But there's no need to think that developing such content isn't your cup of tea. In this long post, you'll get a breakdown of how to write content for a website that will facilitate effective conversions of your visitors.
How to Write Content for a Website – Helpful Tips and Tricks
Creating engaging and compelling content boils down to a handful of rules. Below are all the tips that will help you enhance your content's readability, quality, and SEO efficacy.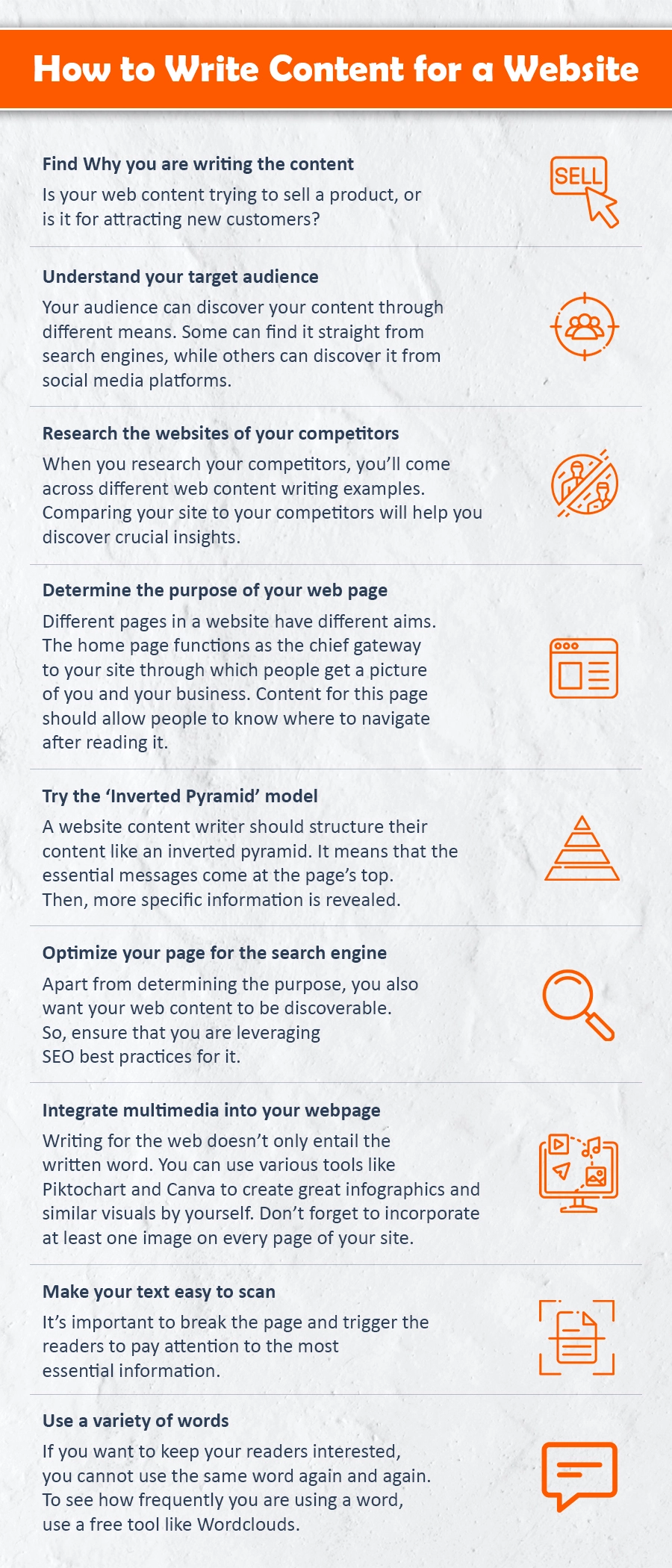 Find Why you are writing the content
You simply cannot start writing for the web without knowing the purpose behind it. Is your web content trying to sell a product, or is it for attracting new customers? It is only after ascertaining the goal that you can create content that is geared toward helping you accomplish your specific goal.
However, before starting to pen even a single word, it's important to gain knowledge of your target audience.
Understand your target audience
Never put your finger to your keyboard before knowing for whom you are writing. Before you create a blueprint of web content, ask yourself who your primary audience is. Is there a secondary audience too through whom you can communicate well with your primary audience? If so, how will these people discover your website on the internet?
Let's understand it with an example. Suppose you are building a fitness website. Your main audience can be your current clients. But there can also be a secondary audience, which is much wider and comprises fitness professionals, physical trainers, and the like. So, you have to create content that can pique the interest of both these audiences.
Your audience can discover your content through different means. Some can find it straight from search engines, while others can discover it from social media platforms. So, ensure that your website content is optimized for all of these. Only then can your audience base will be able to find your website.
Research the websites of your competitors
You can only make well-rounded content after gaining a thorough understanding of the competitive landscape specific to your domain. When you research your competitors, you'll come across different web content writing examples. Comparing your site to your competitors will help you discover crucial insights. You can then use them in writing your copy. Some ways by which you can benefit from competitor research are given below.
Your target audience is visiting and reading the content on your competitor's website also. By going through their content, you'll be able to offer something unique on your part.
Researching competitors' content will enable you to discover significant industry trends. Thus, you can spot earlier any new tactic or strategic shifts that your competitors are employing.
Competitor data can also be used to set performance benchmarks. You can gain better clarity over keywords, backlinks, and traffic that the websites of your competitors are ranking for.
Fortunately, there are numerous competitive analysis tools available today. Tools like Competitor Keyword Matrix and the Audience Overlap tool help you gain essential insights into the areas you can improve.
Determine the purpose of your web page
Different pages in a website have different aims. The home page functions as the chief gateway to your site through which people get a picture of you and your business. Content for this page should allow people to know where to navigate after reading it.
You might wonder what is web content for a landing page? Such content has a focused objective, and it is actionable in nature. You should create it in a way that propels the user to become a lead and then make a purchase. Apart from that, blog posts also come under the category of web content. But their purpose is to educate and build your brand awareness. Content here should be seasonal and related to something casual.
Try the 'Inverted Pyramid' model.
Readers on the internet have an extremely small attention span. They decide whether your website contains the type of content they need or not within just a few seconds. In such a scenario, you need to take all possible measures to grab their attention. Here's where the inverted pyramid model can guide you.
A website content writer should structure their content like an inverted pyramid. It means that the essential messages come at the page's top. Then, more specific information is revealed. For instance, imagine you're making a page about a webinar. The more important details like date, theme, and time will come at the top. Supporting details like the speaker's information will come at the bottom.
Optimize your page for the search engine
Apart from determining the purpose, you also want your web content to be discoverable. So, ensure that you are leveraging SEO best practices for it. Some things that you should remember include.
Ensure that the primary keyword has a density of 1-2% in the full content. Apart from the body part, it should be present in the page title or headline, one subheading, meta description, title tag, and image ALT tags.
Link your website content to other pages. On-site links allow visitors to discover what they need. It also indicates to the search engine the meaning of your page and its value.
Make use of SEO tools to scan your page and eliminate all errors in it. For example, Alexa's On-Page SEO Checker analyses a page and helps the user to find out any mistakes in it.
Your page should always have a strong call to action. It triggers the action of the readers and allows them to convert. Make use of action words like 'click here', 'call', 'fill out' etc.
Integrate multimedia into your webpage
Writing for the web doesn't only entail the written word. Plenty of studies have shown that the brains of individuals are visual. It means that people process visual data rapidly than text. Apart from pictures, a readable graph or chart also provides people with more clarity on a topic than plain text. You can use various tools like Piktochart and Canva to create great infographics and similar visuals by yourself. Don't forget to incorporate at least one image on every page of your site. They do a great job of breaking the text and making it more readable.
Make your text easy to scan
As mentioned before, most readers don't waste any time moving on to another website if they cannot find the information they are searching for by scanning your page. Nobody reads each and every word of a web page. Hence, it's important to break the page and trigger the readers to pay attention to the most essential information. You can do it by using the following.
Images
Whitespace
Descriptive headers
Numerical or bulleted lists
Buttons
GIFs
Videos
Different background colors.
Use a variety of words.
There are some words that we like using more than others. But if you want to keep your readers interested, you cannot use the same word again and again. To see how frequently you are using a word, use a free tool like Wordclouds. All you need to do is paste your word in this tool to produce your cloud. The more often you use a specific word, the bigger your cloud will become. If you find that you are overusing a word, just look for its synonym online.
However, remember that there's an exception to this rule. A website content writer should keep specific important terms consistent throughout your site. For instance, say you are a photographer and you are involved in photo shoots. Don't use the word 'photoshoots' to describe your services on one page and the next page call them 'photography sessions.'
Summing up
Now you know the art of website content writing. When you implement the points mentioned above, you will undoubtedly be able to create content that speaks to your audience. In turn, you'll be able to tap into a wider audience base, make more sales, and boost your business. Ensure that you are well-aware of what your audience demands and how you can solve them. While strategic use of keywords is important, never stuff them into your content. Also, be creative and make your web content visually aesthetic for your readers. If you are short on time for creating quality web content, feel free to get the help of experts in this process.