Grammar is the soul of a language. But today, the newer generations communicate mainly by using slang with each other. It alters the correctness of grammar and negatively impacts the task of writing academic content. For academic writers and students, writing grammatically correct content is imperative. To make the process quick and effective, you can use various tools for checking grammar. With the aid of the best grammar checker, you can rest assured that your text will be free of any silly grammatical and style errors. In this post, you'll discover some of the best tools for making your text as grammatical as possible.
What's the Significance of Using the Best Grammar Checker?
Academic writing is by nature objective, structured, and accurate. This type of writing usually gets written in a formal tone. Even those who are fluent in the English language may commit minor mistakes unknowingly while writing. In such a case, a grammar checker tool proves to be of much importance. It allows the writer to evaluate spelling and grammar before submitting their academic work. The text becomes more refined and thus fulfills the requirements for getting published.
Increasingly, there's a rise in demand for such tools, as they help the writers with various things like word count limits and writing style. Many of the tools also provide help with academic writing, scientific expression, the use of technical terminology, and the like.
What Are Some of the Effective Grammar Checking Tools?
Good grammar goes a long way in making a text more readable and impressive. There are loads of online grammar-checking tools available for you to try. Keep reading to know about some of the most efficient that you can leverage.
1. Grammarly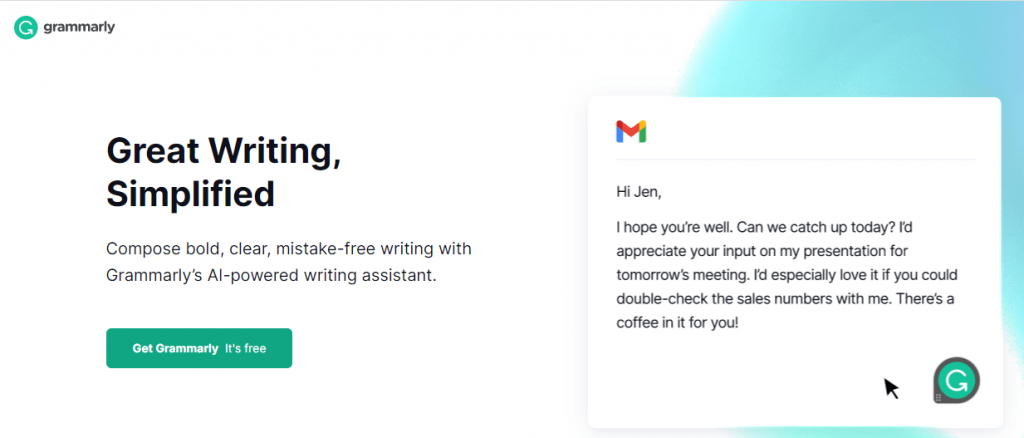 It's hands down one of the best grammar checker tools that you can use to proofread your articles. It helps people eliminate grammatical and spelling errors in various kinds of content like emails, blogs, articles, and book chapter drafts. The tool is available in free and premium versions, and you can use either one of them according to your needs.
The tool inspects the text across the web. It works through the web extension, a desktop application for Mac and Windows, and in the form of an Android or iOS app, namely Grammarly Keyboard. If you are concerned about your budget, you can use the free version. Just install its plugin on your browser and easily check all kinds of content or write-ups.
With the paid Artificial Intelligence-enabled version, you can eliminate not only grammar and spelling mistakes, but also know about the proper writing style and enhance the readability of your text. It will provide you with suggestions to refine your sentence structure and vocabulary. You can also rectify run-on sentences with it.
2. Trinka AI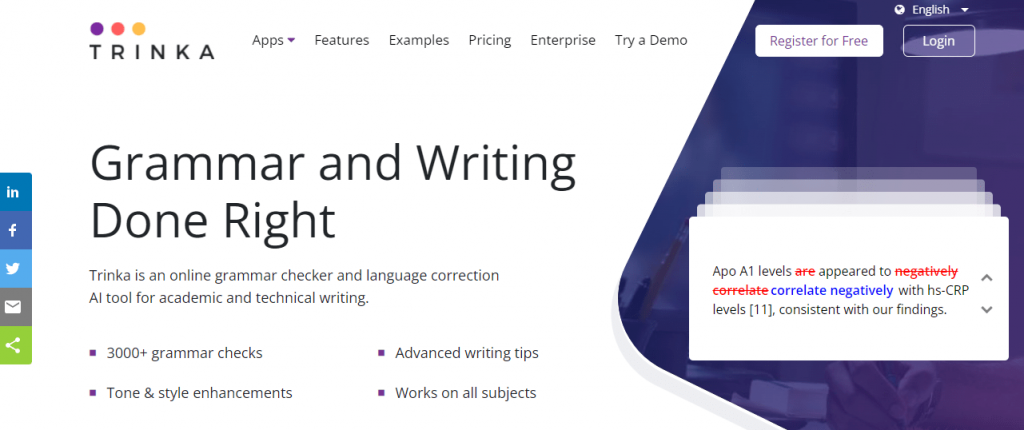 It is one of the first tools developed for creating technical and academic papers. The tool basically enhances manuscripts for English writing that's academic in nature. It also improves the paper's technical vocabulary. Thus, it's one of the best grammar checker-free tools that leads to an overall improvement in the language.
The tool strictly abides by the academic style guide when recommending corrections. It has custom-built functionalities, like concept clarity, unbiased language, and sentence structure. The tool gives a relevant explanation of a particular correction, the suggestion given by it. It also assists the writers in minimizing the word count without any modifications in the context of their work. You can choose between U.K. and U.S. Styles to ensure that the content is accessible for every researcher worldwide.
3. Hemmingway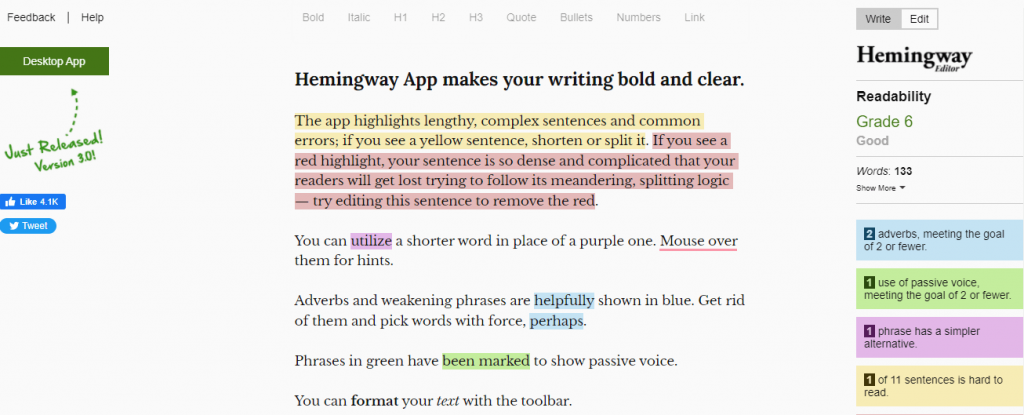 It's a web-based text editor. As a result, it doesn't work inside the WordPress post editor. But you can easily make use of the free Hemmingway to assess your write-ups for readability, grammatical correctness, and spelling errors. It's a great tool for online grammar check that also functions as a style checker. The tool allows writers to boost the readability of their text by showcasing the readability score and recommending improvements.
You can use the tool in the form of a paid desktop application for Mac and Windows. You can also use the application and publish seamlessly from WordPress.
4. ProWritingAid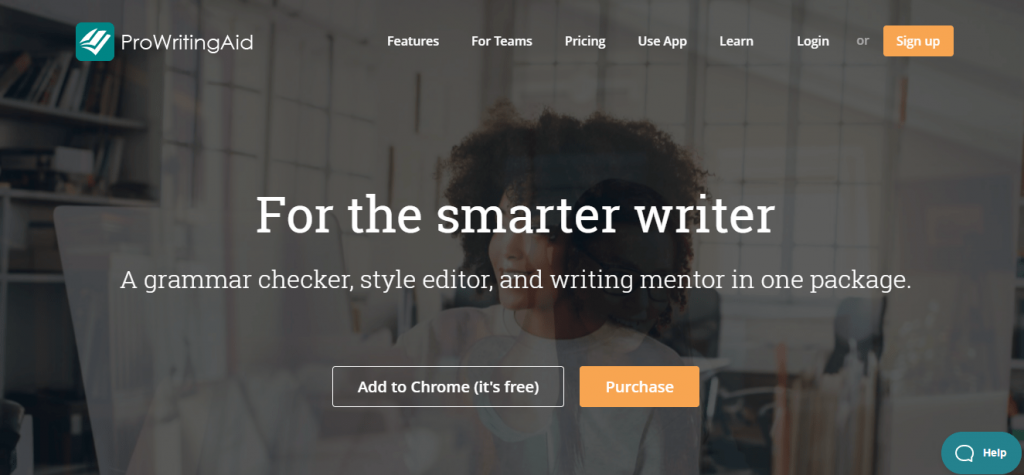 It's a software tool that doubles up as a virtual writing tutor or assistant and grammar checker. If you want a tool for grammar check online that can also integrate with Google Docs, MS Outlook, and Word, then this is the right option.
Mac and Windows users can download their desktop applications. They can also install its plugin on their browser. There are also browser extensions for Firefox, Edge, Chrome, and Safari. Thus, you can easily evaluate your text or content on any website, like Facebook, Twitter, Medium, Wattpad, and Gmail. All you require to do is paste the content and inspect for spelling and grammatical errors in a web editor. You can also upload any document that you have written.
 ProWritingAid has a peculiar feature called Echoes. The feature recognizes places where you have overused turns of words, terms, and phrases. You can thus identify different cliches in your writing. Thus, it's a useful tool for all fiction writers out there who want to make their writing skills more effective.
5. Ginger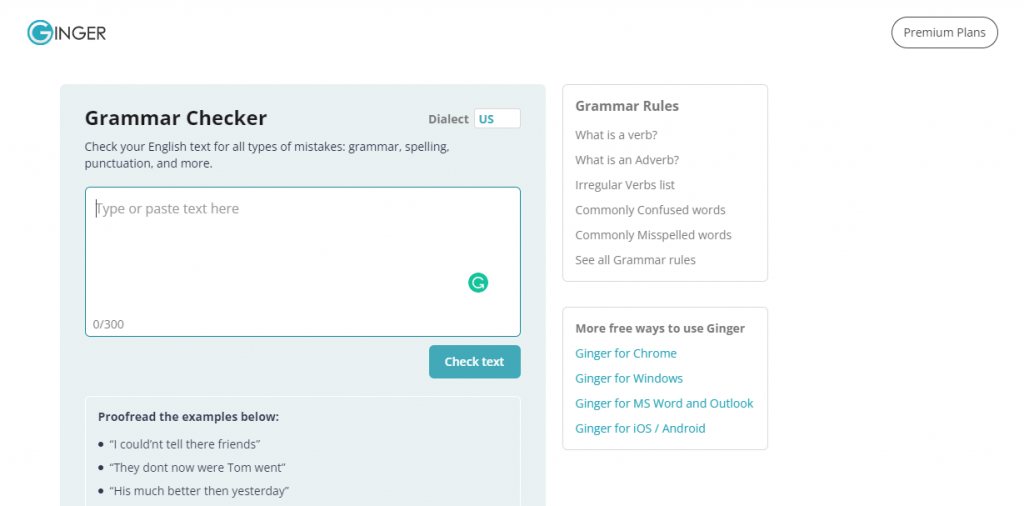 It is yet another free best grammar checker tool. Ginger provides online proofreading as well as a spell checker tool. Its contextual spell checker finds the correction that fits the original sentence meaning. As a result, apart from enhancing your writing skills, it also bolsters your productivity.
There are various ways to use Ginger. You have the option of using it as an M.S. Word/Outlook integration, a browser add-on, and an iOS/ Android, Windows app besides using it straight from their official site. The tool is perfect for checking irregular adverbs or verbs, misspellings, and confusing wordings.
You can quickly get started with Ginger by installing any browser extension of it. It provides you with both the word and character count and facilitates you to discover the right synonyms for overused words. It recognizes all grammatical and spelling errors and highlights them in blue.
Its premium version helps writers identify even more problems in their text, like subject-verb agreement. Thus, it makes it one of the best grammar checker online tools.
6. Writer.com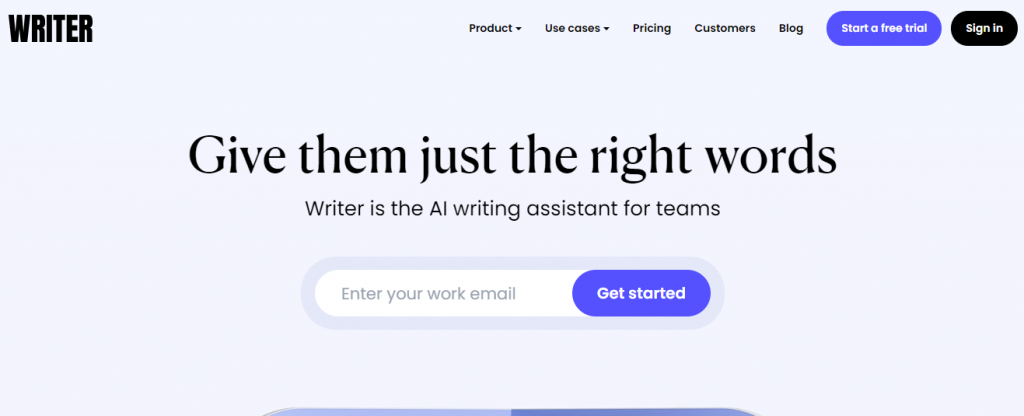 It's a recent tool developed for writers who are mainly involved with writing brand-related content. If you are a part of a marketing team, H.R. department, P.R., or a social media manager, you'll certainly benefit from it. It provides a dedicated style guide, and people can collaborate efficiently using it. Moreover, it's quite inexpensive than Grammarly.
The tool works seamlessly on sales platforms and content management systems. It also works on writing applications like M.S. Word and Google Docs. It's a grammar checker tool that also supports email clients like Gmail as well as social media platforms like Facebook and Twitter.
Writers will especially like its user interface and style guide when they are creating various brand-related content.
7. Jetpack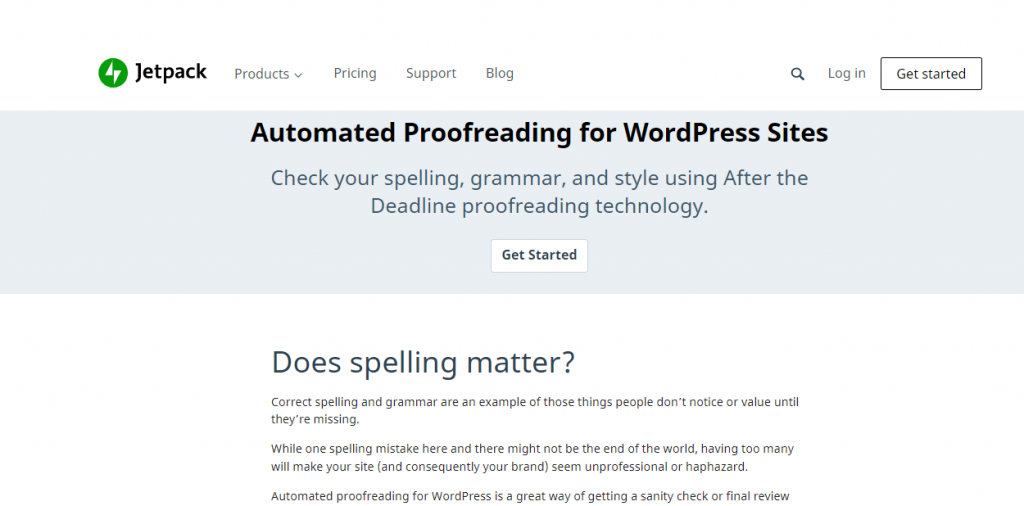 It is one of the most prevalent WordPress plugins. Jetpack provides robust functionalities of performance optimization and site security. Its proofreading module is quite liked by many people.
To start using Jetpack, you only need to navigate to this plugin's settings and choose 'Writing.' From there, you can enable the functionalities of style, spelling, and grammar check. Then, the tool will start to mark your mistakes automatically in the WordPress editor.
Jetpack uses the red color to highlight spelling errors and misused words. It uses the green shade to highlight grammatical errors and blue for style recommendations. The tool is available not only in English but also in other languages like Portuguese, German, Spanish, and French. It gets regularly updated by WordPress's Automattic team.
8. Scribens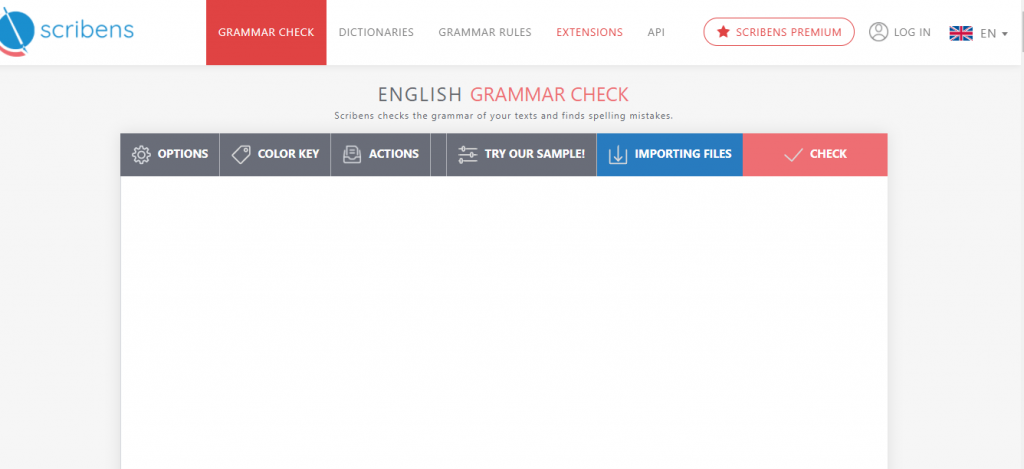 If you're seeking the best grammar checker that's also free, feel free to use Scribens. With it, you can check tons of grammar, style, and spelling mistakes without laboring over your text.
The tool is backed by powerful algorithms that aid the writer in making their text free of all grammar and spelling mistakes. You can also utilize it to enhance the vocabulary you have used in your text and for proofreading purposes. You have the option to modify settings to either American English or British English vocabulary.
Apart from that, you can also choose the font size of your document. It prevents you from changing the font multiple times during editing. You will find all the grammatical errors in red color, verbs, and suggestions in green and yellow color respectively. All the typography and punctuation mistakes will get marked in blue. If you are a blogger or need to post fully edited and proofread articles regularly, you will definitely love using this tool.
9. Zoho Writer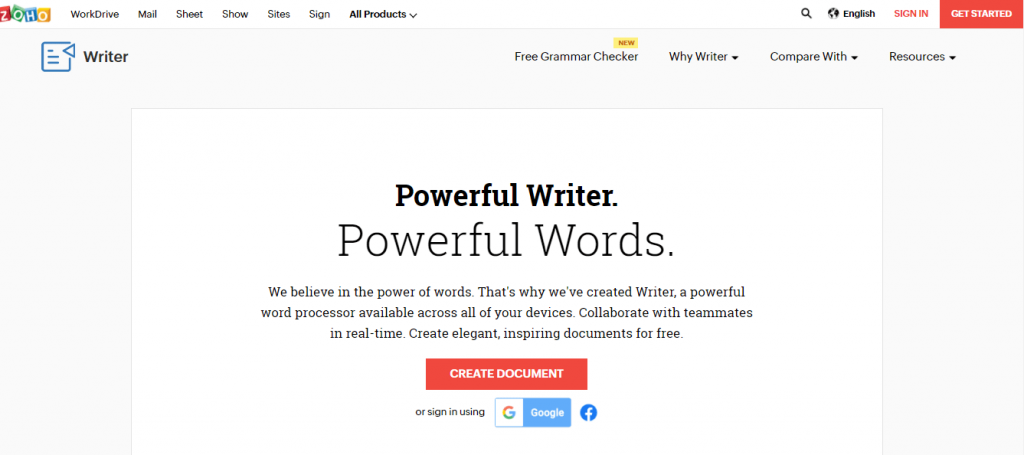 Another great online grammar check tool for grammar, style, and spelling issues, Zoho Writer is loaded with many robust functionalities. The tool is developed on Machine Learning and thus offers smart suggestions, like subject-verb agreement, context-aware suggestions (like accept, except), punctuation and redundancy. Its intelligent writing assistant monitors the way in which a user uses cliches, passive sentences, and adverbs.
You can use Zoho Writer for writing polished and professional files and documents for your business. Apart from that, the tool also scans wordy sentences or phrases and inappropriate word choice corrections. It also improves your text's readability and its overall quality.
10. LanguageTool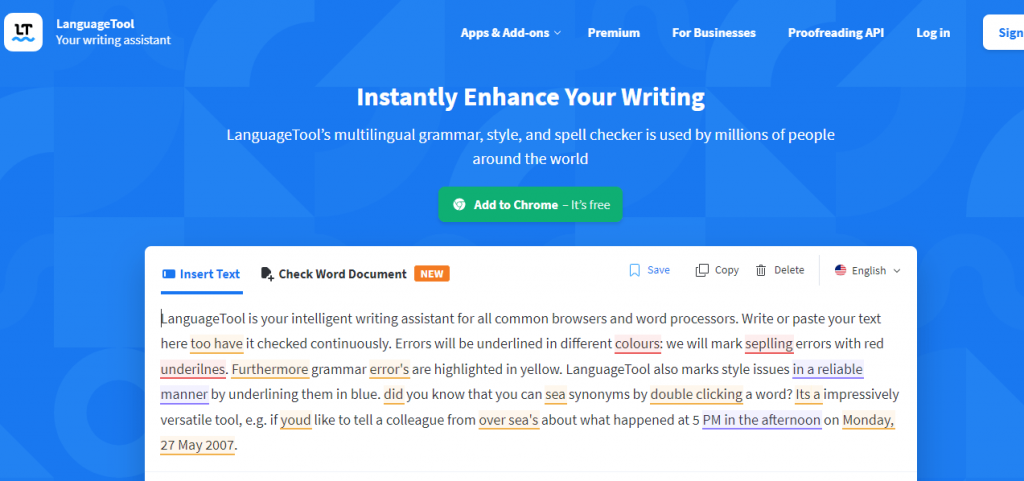 It's another best grammar checker tool that you can use as an alternative to the very popular Grammarly. This tool checks the grammar of a text along with style and spelling. Moreover, its multilingual, which means that you can edit your text in English, Spanish, French, German, and Portuguese. You will not be charged any amount of money for using this tool till 10,000 characters per text.
The version of the LanguageTool also features a language dictionary, and you can access a greater number of suggestions to enhance your text. It features browser add-ons, and there's also a macOS app for it. The paid version allows you to inspect the style and tone of your text for up to 60,000 characters per text field. The paid version also enables the detection of incorrect email titles and names.
Wrapping up
These tools are best for checking the grammar of your sentences, which makes your work grammatically flawless. The tools contribute positively to saving your time, and many of them also allow you to enhance your vocabulary and writing styles. You can select those ones that you feel are appropriate for the kind of content you regularly create. It ensures that you don't feel the need to hire a technical person to proofread your content. The professional writers of content writing services all utilize these tools to furnish you with grammatically and meaningful content pieces. It helps you engage your readers better and communicate effectively through the written word.