What is speech writing?
Speeches are the most frequent kind of public address. Speech Writing is the skill of using words to communicate an idea to an audience. They're given by leaders and others in positions of authority.
Speech writing can also be done to persuade people to alter their beliefs. In a scenario, you must know the aim of your speech. You should also be acquainted with the needed length or time restriction, and conduct an audience assessment.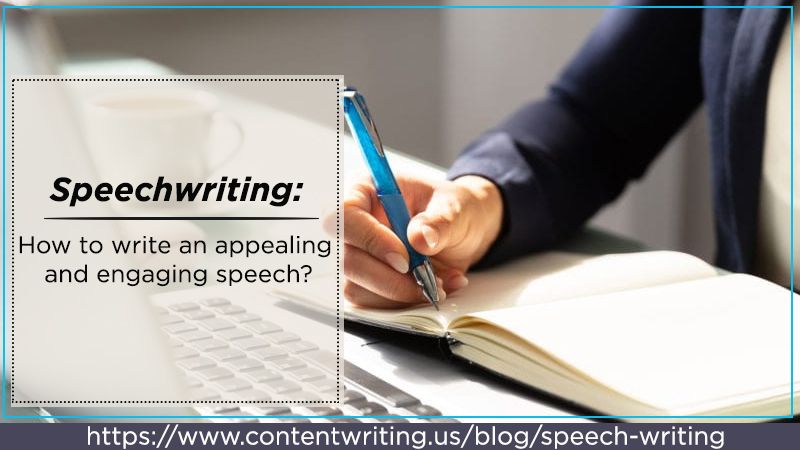 The significance of writing a speech
It is impossible to underestimate the impact of excellent, inspirational, engaging, and thought-provoking speech writing. In hindsight, a strong speech has served as a rhetorical instrument for conquering countries as well as winning people's hearts.
For centuries, many leaders have used the skills of a Speech Writer to enchant audiences with mesmerizing speeches. Aside from precisely voicing your speech, the words you pick in a speech have importance and we start practicing speech writing in school.
How to write a good speech?
Before you begin writing, you should be aware of the following:
The following points should be considered by any speechwriter: What exactly is the purpose of the speech? What does the speaker want to accomplish? What are the key points of contention? Why are you putting this speech together? What do you want the audience to think, feel, or do after hearing it? Thus, how to write a speech matters a lot.
How to greet your audience and generate interest?
The speech writing should include a brief greeting idea. Start with a general summary or outline of your speech. Begin by extending a warm welcome to the audience. Then, to get the audience's attention, utilize a quotation or a question. It's critical to pepper your speech with solid comments backed up by facts, figures, or statistics.
E.g. Are you pressed for time? You don't have time to read a whole page?
Take a look at… Give detailed examples so the audience understands the subject and can connect to the speech.
Important speech writing tips:
You should have considered all of your important arguments and rated them in order of priority. And you've gathered all of the evidence you'll need to make your case.
HOW Lengthy the speech should be – 3 MINUTES, 5 MINUTES…
The greeting is different from the introduction of the topic
1. Structure
When writing a speech, pay attention to the framework. Great speech writers plan their speeches in the same way that a story is told. The audience will be taken on a trip, with the speech serving as the guide.
Speeches have a three-part structure that most people follow. You'll need an engaging introduction, a thorough middle, and a powerful conclusion.
Even though your speech is lengthy, it is just one concept. You won't always go wrong if you keep to the plot pattern. Transformation in your speech will assist each point flow smoothly into the next. You want to help your readers understand your point of view.
2. Consider your speech to be like a burger
You may grasp the notion by imagining a speech as a hamburger.
The pieces of bun that keep the contents (body) together are the beginning and end.
You may make a basic burger with only one filling, or you can go all out and add three or even five. It's all up to you.
But, as a competent chef, you must remember who will be eating anything you choose to dish! And that's who you're talking to.
3. The Introduction 
Following the greetings, the introduction is crucial. It convinces your audience that you an important message to deliver worth their time.
The introduction has to be attention-getting. Immediately get people's attention. The goal of a speech is to engage the audience and persuade them to think or act in your favor. Create an opening phrase that indicates your objective, a query, or a surprising fact as a good place to start.
Introductory speech examples: 
A synopsis of your subject. Make a rough sketch of your speech. For instance, I'll be discussing… Start with a tale, statement, fact, joke, or comment on what's going on in the room.
The initial phase of the introduction should be no more than 3-4 lines long.
For example, "Alexander once stated…" or "This issue instantly reminded me of a tale…"
This section is particularly crucial. It would help your audience to judge whether your speech is worthwhile their attention. Maintain a truthful, engaging, and persuasive beginning.
1. The Body
The course of your argument is when you get into the flow of things. It is the most important part of any speech. You should provide a host of arguments and explanations to convince the audience to agree with you.
Addressing objections is an important aspect of speech composition. There is no time for questions or concerns since a speech is a monologue. Any concerns that may occur during the speech will be addressed by a powerful speech. As a result, you'll be able to respond to questions as they come in from the crowd.
A side benefit of managing objections is that it gives you a feeling of authority. To convince an audience, you must be able to portray yourself as knowledgeable. You should have the appearance of someone people want to follow.
Important aspects of your speech are contained in the body. Methodically, create a sequence diagram with the information.
Suppose your speech is on wastewater treatment. An example of speech writing for body para should be on distributing ideas related to wastewater treatment. Then, organize it into subparagraphs for immediate understanding. It might consist of the following:
What is the definition of wastewater treatment?
Major waste management approaches
The Benefits of Wastewater Treatment
How wastewater and garbage governance is essential.
2. The conclusion 
You want your audience to remember your message after you've finished speaking. The conclusion of your speech is frequently the most remember aspect. You may wrap up with a summary of the most essential ideas, or a call to action.
Calls to action may be effective because the speech could motivate the audience to take action. This might be phrased as a question, such as "Will you help?" and is meant to elicit agreement from the listener.
The positive message in most political speeches might be to vote for a candidate or to make a change. Remember that the conclusion of a speech will be talked about, so make it something to speak about!
3. Style and language
Use brief phrases that can be understood by anyone in the audience. Explain imagery, provide examples, and add quotations to make the speech more fascinating. Refrain using foreign terms and stick to plain language.  Address them if they can't be avoided. Write as though you were speaking.
To catch the audience's interest use comedy. A speech may also be brought to life via. emotive language and figurative speech (metaphors). The speech's ending should be thoughtfully crafted. Thus, it should underline the speech's main point. Leave a call to action for the audience to consider once you've finished speaking. Finally, analyze the speech loudly to ensure that the written language is correctly translated into spoken words.
Conclusion
A convincing speech requires meticulous planning and an excellent draft. It is critical to state the speech's goals clearly, keeping the intended audience's interest in mind. In such a scenario, you can approach Content Writing Services if you cannot write a speech by yourself. They have to require expertise with vast experience to create an engaging and wow-inspiring speech.