Reflective writing is the most imperative aspect of learning whether you are busy in professional work or looking for individual growth. In media, literature, academics, or digital platforms, you will find traces of reflective writing. It is the result of the author's proactive thinking and compelling thoughts. If your mind is dwelling on how to write a reflection paper, then you should read the complete article. It reflects our attempts to share profound knowledge on reflection papers.
Reflection paper indeed is a mirror of reflective writing that demonstrates your level of critical thinking. Before uncovering the composition of reflection papers, pay attention to the concept of reflective thinking. It allows you to think about the bigger pictures of an incident. It forces you to think beyond the aspects of future or past experience. You have to understand the situation by contemplating various questions: why did you do what you did or is it important to do that. The same concept works on writing a reflection paper.
What is a Reflection Paper?
Generally, a reflection paper narrates a story based on one's personal experience or personal opinion. In terms of education, a reflection paper acts as an academic essay that projects your course experience. It could be your lab experiment, academic project, or unforgettable experience. Here, the word "reflection" shares the critical evaluation of your experience and articulates your learning.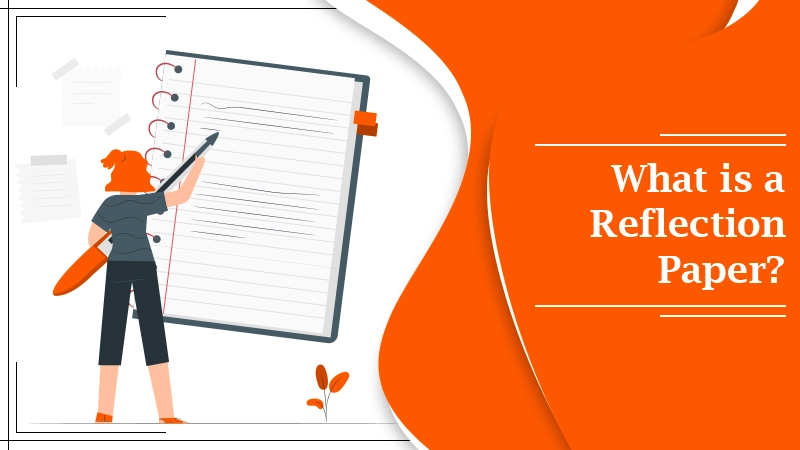 Purpose of Writing a Reflection Paper
Being a part of reflective writing, a reflection paper is good to share your perspective in order to demonstrate what you have learned. The predominant purpose of writing a reflection paper could be:
Inform your audience or tell the challenges you have faced during your learning.
Offer efficacious insights to your readers.
Instill empathy to your listeners or foster understanding.
Stimulate reflection of your comprehension
Entertain your audience through facts and details of an incident.
How To Design Reflection Papers?
One of the most desirable aspects of creative writing, reflection papers develop your intellectual skills and enhance conceptual abilities. When you start to write your reflection papers, you will get an opportunity to transform your experience into learning.
Through reflective writing, you will train your mind to think analytically. It will allow you to develop a link between your experience and the course content. Therefore, you need to figure out everything to understand the reflection paper format and express your thoughts. For that, put your attention to the following three elements of reflective writing:
Writing Style
Topic Selection
Reader Response
1. Writing Style
It really matters how you project your thoughts in writing your reflection papers. Here, you need to ponder over your writing style. It should be well-written and properly executed. Your writing must be concise, engaging, focused, and to the point. Tell everything directly from your heart to get the attention of your readers. Make sure to avoid jargon.
2. Topic Selection
Based on academic requirements, you have to think hard while selecting your topic. While thinking about how to write a reflection paper, you spend enough time on topic selection. Use the current topic that reflects your research skills and relevance to the readership. Your topic should address crucial issues related to your subject.
3. Reader Response
Reader response theory uncovers the vital role of readers in any writing. Likewise, readers play a significant role in reflective writing. While unfolding the depth of reflective writing, you should consider the reader's response. Thus, your reflection paper should increase self-awareness and empathy. Your writing should create an emotional connection with the story and appreciation from various perspectives.
Imperative Elements Of Writing An Interesting Reflection Paper
When you are moving further in outlining your reflection papers, you should focus on each part. For that, you should consider the imperative segments of reflection papers:
Demonstrate your experience precisely
Evaluate your experience deeply
Articulate your understanding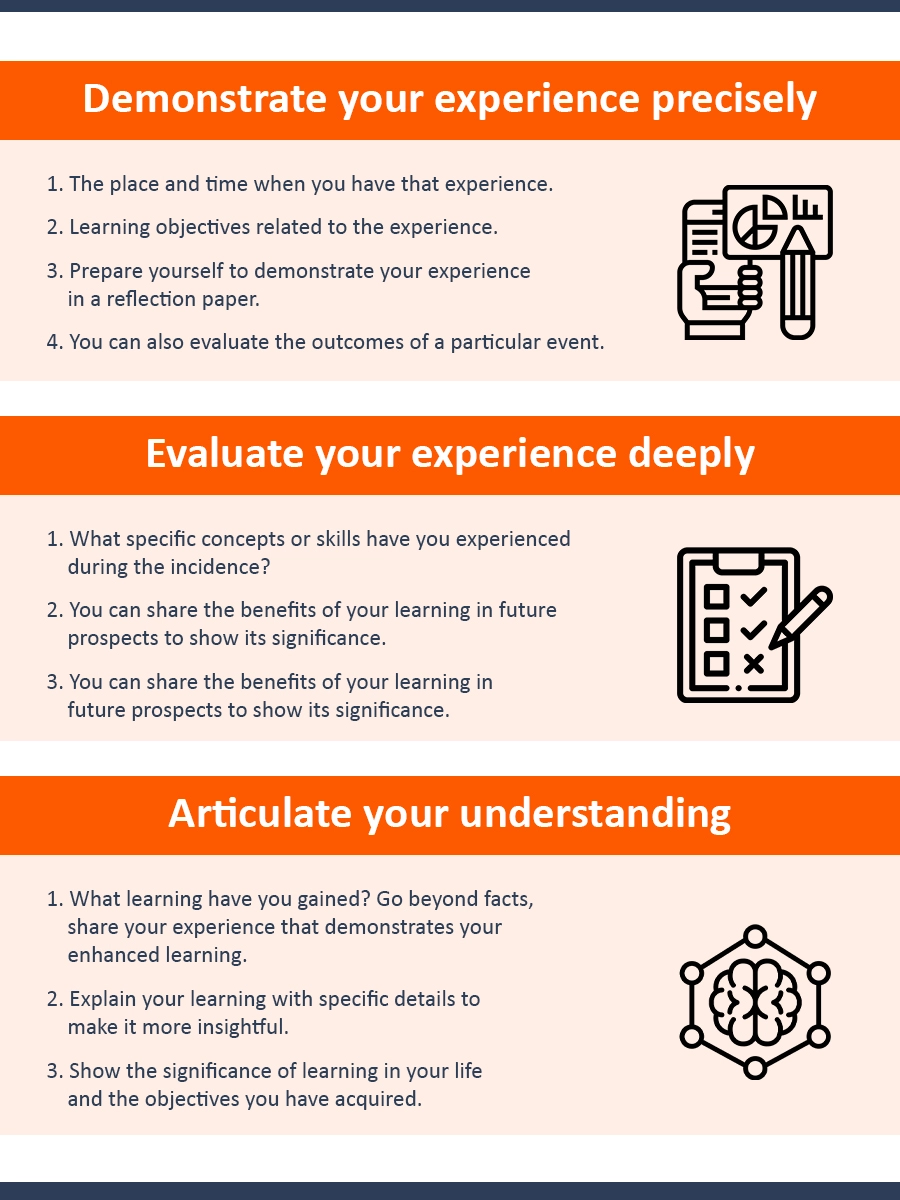 1. Demonstrate your experience precisely
The foremost step in writing your reflection paper is to lay the foundation of your reflection. In simple words, you need to figure out how to describe your experience precisely. Instead of jumping into explaining your viewpoints, concentrate on facts. Keep the above prompts into your mind while describing your experience in reflection papers.
2. Evaluate your experience deeply
In the second step, you have to go beyond writing a mere summary of your reflective thinking. Here, your objective is to scrutinize your experience deeply to infuse feelings into your writing. You need to think about how you will present your understanding to make a strong connection with your readers. You can work on the above key segments to share worthwhile learning with your readers.
3. Articulate your understanding 
While composing the last part of your reflection paper, you need to share your learning. You have to tell your readers why the incident or subject is important for you; what you have gained without making affluent modifications. In above three steps, you will know how articulate your learning to write an effective reflection paper.
Reflection Paper Format
Typically, there is no specific format to write a reflection paper. However, your question "how to write a reflection paper" requires an answer in which you have a proper outline to explain your thoughts. Here, you can add three sections to outline your reflection paper properly. It should be an introduction, body paragraphs, and conclusion. Let's understand each section completely to write easy-to-understand papers.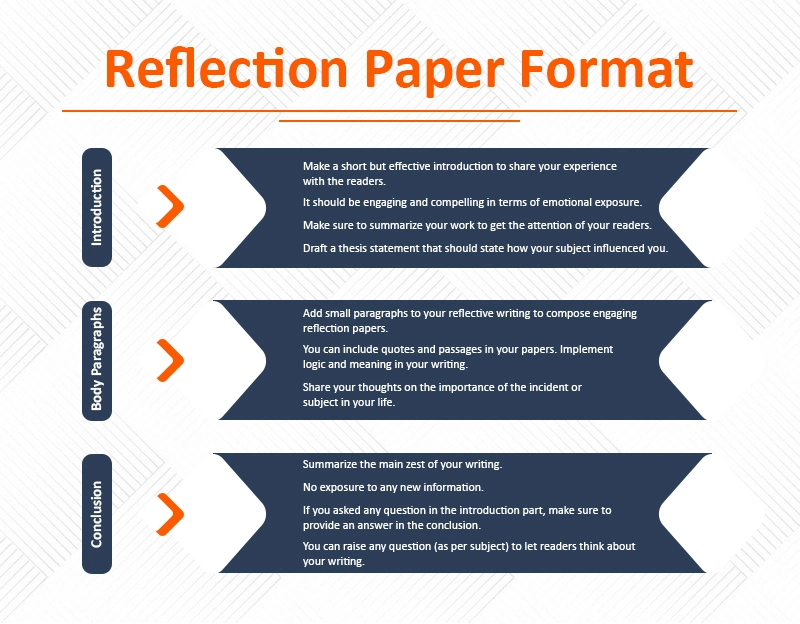 1. Introduction
It reflects the beginning of your papers that should be constructive and compelling. It will decide the whole reading of your writing. In this section, inform your readers what you are going to tell your readers briefly.
2. Body paragraphs
The body section allows you to share your ideas, experience, and learning in an exploratory manner. You need to explain your learnings and experience to unfold your side of the story. Don't directly jump to conclusions as it may reduce the interest in your writing. Instead, add emotions and sentiments to your writing to connect with your readers.
3. Conclusion
Are you struggling to write a persuasive conclusion for your academic papers? Generally, students do not understand the significance of the conclusion in giving closure to their writing. However, a good conclusion compels readers to think about your reflection papers afterward. The message you want to convey should be properly written in this section. A conclusion should following key points:
Additional Tips on How to Write a Reflection Paper Appropriately
Go through the following additional tips to compose a good reflection paper:
Spend enough time to understand the context of the subject or experience, you are going to share in your reflection papers. You should think about the learning objectives of your papers.
Don't directly jump into writing; figure out the ideas and things you should share in your writing. Prepare a rough copy of your writing in your mind before jotting down your expression on a piece of paper.
Keep in mind that you are writing for students so make your reflection papers easy to read and interpret.
If possible, avoid lengthy reflection papers to make them precise and desirable for reading. For a good reflection paper, you can use 1000 10 1500 words.
Maintain a good flow while sharing your experience with the audience. Make sure to use academic language.
Evaluate your papers for typos and grammar mistakes.
Plan ahead and organize everything. Give proper time to your reflection papers in order to reap the best outcomes.
What Would Happen Next? Count Your Learning & Start Writing!
After reading the article, you will get some ideas on what a reflection paper is and how to write it. You can start contemplating the ideas or expressions you want to share with your audience. From topic selection to describing your thoughts, you have to focus on each part of reflective writing.
In case you need professional guidance, you can ask for paper writing services. Diverting your attention to experts will let you uncover the hidden gems of writing reflection papers. So, if you need to enhance your writing skills, count on the online help of our subject matter experts.