Do you want to start your career as a ghostwriter and don't have any idea how to become a ghostwriter? Ghostwriting plays an important role In creative writing. A ghostwriter writes different types of content including blogs, articles, and many more.  In this blog, we are going to share what a ghostwriter is. How do I become a ghostwriter and what are the benefits of becoming a ghostwriter? So, Let's explore a complete guide about ghostwriting and know how it can help you.
What Is a Ghostwriter?
A ghostwriter is a freelance writer who creates content that is for someone else. Ghostwriters can create a variety of works for their clients, including nonfiction books. In the world of traditional publishing, ghostwriting is a way to frown upon.
When you invest in the writing process while also knowing when to defer to your client. You will achieve ghostwriting success. The credited author will always have the final say on what is and is not included in a book. After all, it's their name on the line, so the "author's voice" has to be theirs.
What are the Benefits of Being a Ghostwriter?
If you are a freelancer, then ghostwriting can be a most amazing idea for you. Here are some benefits that you can consider if you want to become a ghostwriter.
As a Ghostwriter then you will get a chance to work with exciting clients. Yet, they will provide you with some interesting subjects to write upon.
Ghostwriting is the easiest way to get a wide audience. You can say that it works as a back door for a prestigious publishing world. There's a saying if you are a ghostwriter, then soon your write-ups will be soon on the top of the list of bestsellers.
Instant payment for your writing
Ghostwriters get flat payments for their work. They do not get paid on an hourly or daily basis.
If you work as a ghostwriter, then you don't have any need to do the marketing on your end. You are free from all types of marketing, including social media or press releases.
Objective distance from your work
As a ghostwriter, if you do not get attached to content. If you don't have a freelancer and you are doing work for hire.  So you have an object of this with your own work and do not get emotionally attached to it.
If you work as a ghostwriter, then you get the chance to write in different types. It will increase the variety in your writing style.
How to Become a Ghostwriter?
If you want to become a ghostwriter, then your work needs to be that you are a good writer as well as a listener.  If you want to know how to become a ghostwriter, then here are some important points that you need to consider: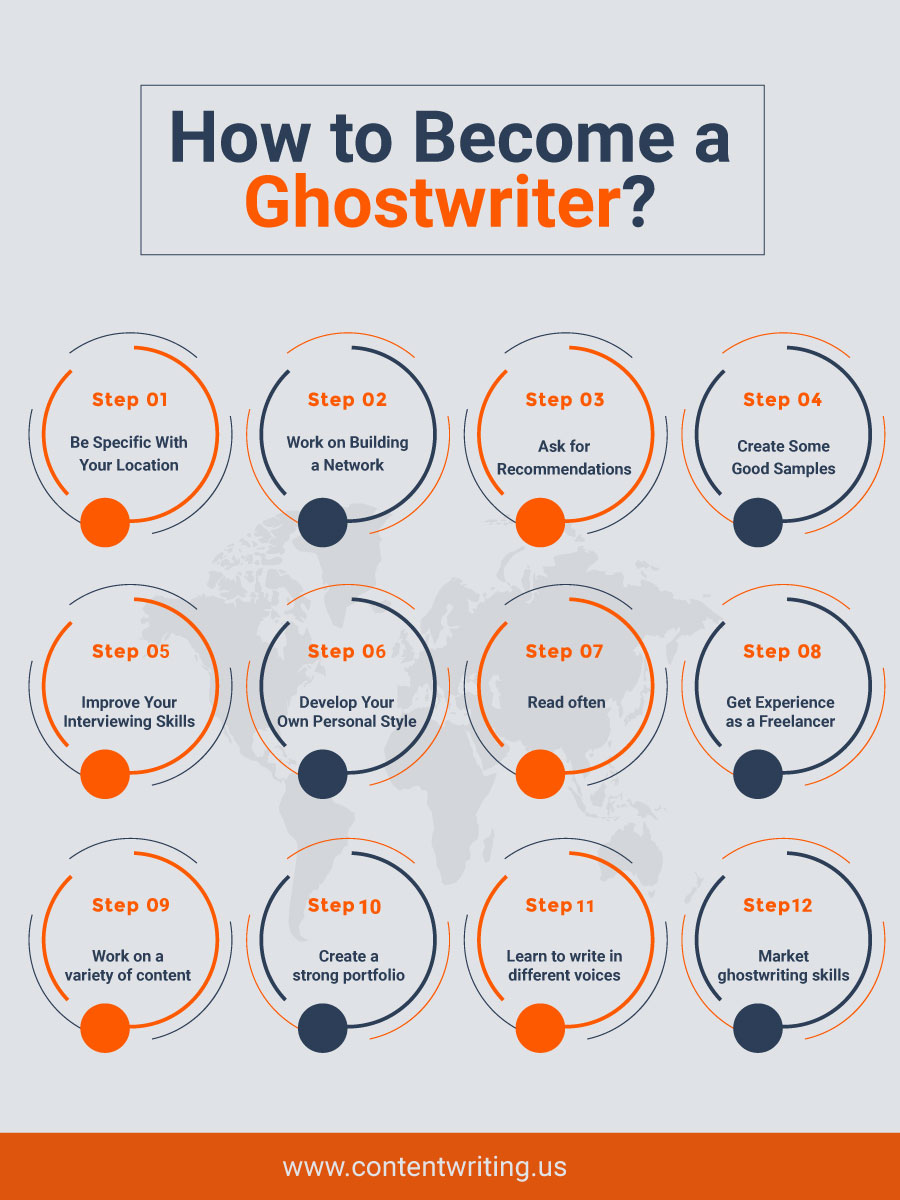 1. Be Specific With Your Location
Location plays an important role if you are looking for a freelancer as a ghostwriter. You have to choose a location where the publisher resides and seek a ghostwriter. But, it is not necessary that you have to live in these cities. You have to work as a freelancer so you can live anywhere but you have to make a connection with such publications.
2. Work on Building a Network
As a ghostwriter, you have to seek the attention of your potential client. The only way to get this extension is to make a personal connection with them.  So, make a network whenever it is possible to meet new people and talk about your skills. Word of mouth marketing is one of the best ways to establish your network.
3. Ask for Recommendations
If you want to work as a ghostwriter, you should make your connections in the publishing industry. If you know a freelance editor or a well-known author, they may be able to put in a good word for you. Publishing houses will recommend ghostwriters to famous people. Whose memoir rights they have recently acquired.
4. Create Some Good Samples
This is another way to show your work. If you do not have some social connections, then you have to work hard. It will take a long time. You have to distribute your work sample in your writing world. You can use your self-published book as your work sample. If you don't have any published book then you can take a few blocks or you can record a series of podcasts. The format is not important, the important thing is that you should understand your writing style.
5. Improve Your Interviewing Skills
If you want to become a typical writer, then you have to go with an expensive round of interviews. This interview has been done between the writer and the client. In some cases, there are many rounds of interviews conducted between the client and the writer. So, it's better to be prepared with questions about your work and satisfied clients.
6. Develop Your Own Personal Style
One more point added to knowing how to become a ghostwriter is to develop your own writing style. For writing style, any specific publishing company has a good network of respected professionals. These professionals can be anyone, athlete or actor and you can choose to ghostwrite as a full-time career. For the same, you can choose any specific style of writing and you can maintain your artistic approach and financial approach both.
Some More Tips to Know How to Become a Ghostwriter
Now we are going to share some more tips that you should definitely know. If you want to know the answer to a question, about how to become a ghostwriter.
7. Read often
As we already know, reading is one of the best habits.  If you want to become a good writer then you will have to become a good reader as well.  If you want to know how to become a ghostwriter, then you have to know you will get a variety of content to write in different tones and styles. Understand the structure of the component and you need to know how to make a good story with appropriate grammar.  You must follow the writing style that should grab the attention of The Reader.  You need to work upon the voice and tone as a writer.
8. Get Experience as a Freelancer
If you get a good experience as a freelancer, then if you believe I really help you if you work as a ghostwriter. As a freelancer, you can work on various types of writing styles which include magazines, blog posts or books. If you work as a freelancer, then you must get the structure of your reading writing style. Along with that, you'll get feedback on your writing. As a ghostwriter, you must have the experience of getting feedback from your client. It will help you in offering them the improved version of your content.
So, in short, we can see that freelancing is a good idea to become a credible ghostwriter.  You will get a good experience and feedback will improve your writing style.
9. Work on a variety of content
Starting a blog is an excellent way to showcase your writing abilities and experiment with new media. Writing various types of content is one of the best ways to know how to become a ghostwriter. Writing guest blog posts teaches authors how to pitch ideas to other publications. Other writers specialize in fiction, such as science fiction short stories or romance novels.
The type of content a writer produces allows them to target a specific niche. For example, a writer who spends this time writing romance novels may find that they are well-suited to work for romance authors in the future. A writer who honed his or her skills by writing speeches can work for politicians or motivational speakers. Writers experiment with various types of writing to find a niche that suits them.
10. Create a strong portfolio
A strong portfolio is essential, but if you want to know how to become a ghostwriter. If you show a strong portfolio, then it will work as a record for you. Your portfolio should be very impressive and provide all the answers of the client. It shows a complete package and tone of your writing style.
Add some long write-ups or projects to your portfolio. If you write long write-ups which have more than 50000 words, you will create trust in your mind.  That you can write long novels and books for them.  With longer content, I can create credibility and at liberty and ghostwriter's portfolio.
11. Learn to write in different voices
Writing itself is a difficult task.  If you have to write with someone else then it will be more difficult. But, as a ghostwriter, you must know to write in other people's voices. As a writer, you can opt for conversation if you are writing and your blog.  But if you are writing an article or academic document, then you have to maintain a formal style. This process is as simple as you want to knowing how to become a ghostwriter.
As a ghostwriter, you have to maintain the voice of any particular person you are writing for as a client.  If you are writing a book for an athlete then it must match the way he used to talk. If you are writing a song for a singer then it must match the type of songs the singer used to sing.
12. Market ghostwriting skills
Ghostwriters find their own work online via social media.  They use job search websites, or they may have to bid on jobs. They promote not only their writing abilities. But also their ability to portray their clients' ideas and voices. Clients must be at ease knowing that the writer will document their emotions. Examples of previous work can help to foster this trusting, friendly environment.
Is ghostwriting legal?
Yes of course ghostwriting is completely legal. If you talk about the name of the author and the idea of any book. Then the simple answer is: These services can be of any type such as editing, releasing the new version, or anything else.
If you are writing a complete Autobiography of any person then it is also legal. For credit, you can mention the name of the ghostwriter on the cover of the book. If the author agrees to share credit, your name will frequently appear on the cover or front matter after the phrase "as told to." Otherwise, the author may include your name in the acknowledgments. Don't be concerned if you don't receive any public credit; it's standard practice in publishing and perfectly legal as long as you get paid.
Wrapping Up
And with that, we've included the fundamentals of how to become a ghostwriter. As with every other professional pursuit, it includes a variety of networking, and the beginning can be a bit of an uphill climb. But keep at it with content writing services or ghostwriting services, and you'll get to see your writing sitting on the shelves someday!